Author of 'Follow the Rabbit-Proof Fence' to speak at Bates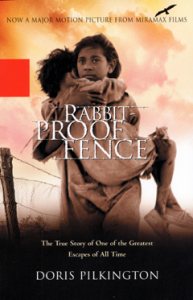 Doris Pilkington, author of Follow the Rabbit-Proof Fence (University of Queensland Press, 1997), will give a talk coupled with the screening of the acclaimed 2002 film The Rabbit-Proof Fence at 5 p.m. Friday, Feb. 13, in the Benjamin Mays Center, corner Bardwell and Russell streets. The public is invited to attend the film and lecture, sponsored by the Bates College Multicultural Center, free of charge. For more information, call 207-786-8376.
Made from her book about her mother's escape in 1931 from an Australian settlement camp and her trek across 1,000 miles of outback to rejoin her aboriginal family, The Rabbit-Proof Fence by director Phillip Noyce exposes the suffering of the indigenous people of Australia at the hands of the government. The Australian government believed that the removal of indigenous children from their parents was a way to eliminate their "aboriginality." The title refers to a 1,500-mile fence separating outback desert from the farmlands of Western Australia that Pilkington's mother and her two sisters followed to find their way back home.
Pilkington was born in Australia's northwestern outback in 1937. At the age of three, she was removed from her home and placed in the Moore River Native Settlement, the same internment camp from which her mother, Molly, had escaped years before. This time Molly was returned to the camp with another daughter and Doris. Once again, Molly escaped with the other daughter, leaving Doris to grow up in the camp. Determined to pursue an education, she — against all odds — qualified as a nursing aide and then went on to study journalism and film and video production.
Pilkington first won recognition in 1990 when she won the David Unaipon Award for her book Caprice: A Stockman's Daughter (University of Queensland Press, 2003). Twenty-two years passed before she was reunited with her parents. She has recently completed her own story in Under the Wintamarra Tree. Pilkington dedicates her life to spreading the story of the indigenous people of Australia, centering her talks on the reconciliation between black and white citizens and among the "Stolen Generation" removed from their families.
View Comments