Men's and women's basketball advance to NESCAC semifinals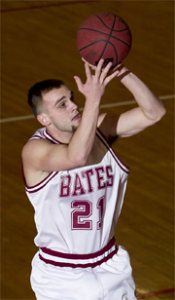 The Bates College men's and women's basketball teams both advanced to the semifinal round of the New England Small College Athletic Conference Championships with wins over their quarterfinal opponents on Saturday.
The No. 3 seed in the women's tournament, Bates came from behind to defeat No. 6 seed Amherst, 62-57, at Alumni Gymnasium. Bates trailed for almost the entire game, but a pair of jump shots by Lauren DuBois '04 (Beverly, Mass.) with less than two minutes to play gave Bates the lead for good.
The Bobcats, now 18-7, will face No. 2 seed Wesleyan on Saturday at top-seeded Bowdoin at 4 p.m.. Bates lost both of their meetings with the Cardinals this season, but both games were very close. Wesleyan, now 20-3 on the year, won the first meeting, 52-51, in the championship game of the St. Joseph's Classic in December. The Cardinals then won the NESCAC meeting 62-57 in Middletown, Conn.
The fifth-seeded men' basketball team defeated No. 4 Bowdoin 87-52 in Brunswick on Saturday, using a 30-6 run over the final 11:28 of the first half to build a 45-20 halftime lead. The Bobcats were 15-for-35 from 3-point range and have already shattered the program record for 3-pointers in a season by 48 with 256 following the win over Bowdoin. More importantly, Bates tied the program record for wins in a season, improving to 18-7.
The Bobcats will face a tough test in the next round, playing against the top seed Williams on the road on Saturday at 4 p.m. Williams, the nation's top-ranked team at 24-1 on the season, escaped from the only meeting between the two teams with an 86-83 win at Alumni Gymnasium.
Both semifinal games will take place on Saturday, though the game times have not yet been scheduled. Winners in Saturday's semifinal round will play for the NESCAC Championship and an automatic bid into the NCAA Tournament on Sunday.
For more on Bates Athletics, including complete game stories from Saturday's quarterfinal round, be sure to visit http://www.bates.edu/sports.xml.
NESCAC Men's Basketball Championship at Williams

Saturday – Semifinals
No. 3 Amherst vs.
No. 2 Trinity, 2 p.m.

No. 5 Bates vs.
No. 1 Williams, 4 p.m.

Sunday – Championship
Amherst/Trinity winner
vs. Bates/Williams winner, Noon

NESCAC Women's Basketball Championship at Bowdoin

Saturday – Semifinals
No. 5 Williams vs.
No. 1 Bowdoin, 2 p.m.

No. 3 Bates vs.
No. 2 Wesleyan, 4 p.m.

Sunday – Championship
Williams/Bowdoin winner
vs. Bates/Wesleyan winner, 1 p.m.
View Comments