Bates presents World Music Weekend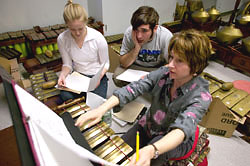 Featuring performances by students from Bates and Bowdoin colleges, as well as a special appearance by a Balinese gamelan orchestra from the Massachusetts Institute of Technology, Bates presents World Music Weekend on Saturday and Sunday, April 3-4, in the Olin Arts Center, 75 Russell St.
Sponsored by the music department, the festival is open to the public at no cost. For more information, call 207-786-6135.
"We're extending our world music celebration this year from a single concert to two days in order to highlight our students' wide-ranging interests in musics that lie outside their home culture," says Gina Fatone, visiting assistant professor of music.
Weekend performances include music from Zimbabwe and the Caribbean, but a prevalent theme of the weekend is gamelan, the percussion-based music of Bali and Java. Performers will include Bates' own Gamelan Mawar Mekar, which plays in the Javanese tradition, and MIT's Gamelan Galak Tika.
Individual student projects are the basis for lecture-presentations Saturday afternoon and a concert Sunday evening. (A full schedule appears below.)
The Bates gamelan ensemble, the college's Blazing Sun Steel Orchestra and Bowdoin's Vadzimu All-Stars, playing traditional music from Zimbabwe, appear in concert Saturday evening. Gamelan Galak Tika performs Sunday afternoon.
Here's the full schedule:
Saturday, April 3: 1 p.m. — Paul Heckler, class of 2004, discusses Scottish Highland piping traditions, Olin Third Floor Lounge
2 p.m. — Gregory Rosenthal, class of 2005, on the "ch'in," a kind of zither, as a vehicle for communion with nature in ancient China, Olin Room 104
3 p.m. — Alex Bushe, class of 2006, discusses rembetika, the "music of the Greek underground," Olin Room 104
8 p.m. — Concert featuring Blazing Sun Steel Orchestra, Gamelan Mawar Mekar and the Vadzimu All-Stars, Olin Concert Hall (the student trio Gefilte Dog performs a mix of Brazilian and klezmer music during the post-concert reception)
Sunday, April 4: 3 p.m. — Concert featuring MIT's Gamelan Galak Tika, playing music of Bali, Olin Concert Hall
8 p.m. — Concert featuring the senior thesis composition of Mike Silvers, a cantata for choir and instrumental ensemble based on Brazilian folk literature and rhythms; Olin Concert Hall.
"Gamelan" means "to hammer," but the term refers to the large percussion orchestras of Java and Bali. The primary instruments are gongs, metallophones and hand drums, embellished with cymbals, vocals, bamboo flutes and spiked fiddles.
Audiences familiar with Javanese gamelan will notice striking differences in sound and style that distinguish Balinese music from that of Java, its island neighbor to the west. The Balinese is generally louder, faster and expresses a more frenetic energy. "There is an overall vibrancy that is truly Balinese," Fatone explains.
Bates' 4-year-old Gamelan Mawar Mekar ("blossom of inspiration") is directed by Fatone and Rose Pruiksma, visiting assistant professor of music. Bates is unique in Maine and distinguished nationally for its resources in Indonesian performing arts — in addition to the gamelan, the college has the use of an extensive collection of shadow puppets.
Its name meaning "intense togetherness" in classical Javanese, the 30-member Gamelan Galak Tika comprises MIT students, staff and community. Its founder and director is Evan Ziporyn, associate professor of music at MIT.
View Comments