Bates Dance Festival to present 22nd season of contemporary dance and music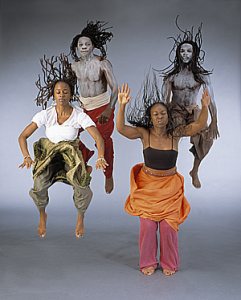 The Bates Dance Festival, northern New England's leading contemporary dance producing and training program, announces its 22nd season, July 17 through Aug. 14, 2004.
The season celebrates the diversity and creativity of contemporary dance with performances featuring hip-hop, postmodern, jazz, world dance and improvisation by acclaimed U.S. companies and established and emerging choreographers from around the world. Recognized throughout the national cultural community for its outstanding performance series, the Bates Dance Festival, located on the Bates College campus, features critically acclaimed new works by Rennie Harris Puremovment, Tere O'Connor Dance, Everett Dance Theatre and hoi polloi, as well as performances by choreographers from Vietnam, Mexico, Cape Verde and Cuba.
In addition to its main stage performance series of 15 concerts, the festival offers two intensive training programs, one for adults and one for younger dancers. For more information, or to request a brochure, contact the Bates Dance Festival at 207-786-6381; this dancefest@bates.edu; website: http://www.bates.edu/dance-festival.xml.
The five-week performance series kicks off with hoi polloi, Boston's hottest new contemporary dance company. Theodore Bale of the Boston Herald calls choreographer Sara Sweet Rabidoux, "Boston's most fearless and cinematic choreographer." "Rabidoux tells stories in her dances of lives as they are being experienced by the next generation," says dance scholar and critic Suzanne Carbonneau. "Her choreography is smart, sassy, madcap, and poignant." The festival presents hoi polloi at 8 p.m. Saturday, July 17, in Schaeffer Theatre, College Street, Bates College.
Philadelphia's Rennie Harris Puremovement, a troupe of the leading ambassadors of hip-hop dance, returns to the festival with four performances of  "Facing Mekka." Featuring a cast of 17 dancers, vocalist, turntablists and percussionists, "Mekka" presents an epic journey through global hip-hop. Harris takes hip-hop beyond its commercial context to address a fractured world, linking the personal, political and spiritual to create a work unifying many peoples and cultures. "The message goes beyond the sensational dazzle of head spins and dives," wrote a Village Voice critic. "It encompasses the wish to be identified and to identify oneself as an individual."  The festival presents Rennie Harris Puremovement in concert at 8 p.m Thursday, July 22; Friday, July 23; and Saturday, July 24; and at 3 p.m. Sunday, July 25, in Schaeffer Theatre, College Street.
New York dancemaker Tere O'Connor constructs worlds on stage that are richly textured, darkly humorous and emotionally compelling. In his new evening-length multimedia work, "Lawn," O'Connor adds video to his masterful blend of theater and choreography, in a provocative union of environmental issues and the poetics of dance. From "hyper-Bavarian," romanticized depictions of forests, to the most extreme visions of contamination, the work ponders the evolving human relationship to nature and the degradation of the natural world. O'Connor weaves his highly personal choreography with a series of narrative and abstract films and a new electronic score by composer James Baker. The festival presents Tere O'Connor Dance at 8 p.m. Friday and Saturday, July 30 and 31, at Schaeffer Theatre.
Rhode Island-based Everett Dance Theatre has garnered national recognition as one of the most refreshing dance companies to emerge from New England in many years. An intergenerational company known for its theme-based projects, Everett presents the world premiere of "Home Movies." Incorporating dance, theater and video "Home Movies" explores today's American family, tackling such issues as mental illness, homelessness and immigration.  The festival presents Everett Dance Theatre in concert at 8 p.m. Friday and Saturday, Aug. 6 and 7, in Schaeffer Theatre.
The annual Different Voices concert showcases new works by acclaimed international choreographers and gifted emerging artists. The evening includes performances by Claudia LaVista and Omar Gibran of Delfos Danza Contemporanea, one of Mexico's most vibrant contemporary companies; Rosy Timas and Elisabete Fernandes, of Cape Verde's dynamic troupe Raiz di Polon, present their acclaimed duet "Duas Sem Très"; Marianela Boan of Cuba, whose brilliant dance/theater works have toured more than 40 countries; and choreographers Kristin Van Loon and Arwen Wilder of the Minneapolis-based company Hijack. The Different Voices concert will take place at 8 p.m. Thursday and Friday, Aug. 12 and Aug. 13, in Schaeffer Theatre.
In conjunction with its performances, the festival presents Inside Dance: Understanding Contemporary Dance, a series of pre-and post-performance discussions and lectures, led by dance scholar and critic Suzanne Carbonneau, offering audiences insight into the artists and their work. The lectures accompany performances by Rennie Harris Puremovement on Friday and Saturday, July 23 and 24, and by Tere O'Connor Dance on Saturday, July 31. Discussions will be held at 7:15 p.m. in Schaeffer Theatre.
In addition to main stage performances, the festival offers a selection of free and low-cost events. Choreographer and filmmaker Victoria Marks screens and discusses her award-winning films on Dance for the Camera, at 8 p.m. Thursday, July 29, in the Olin Arts Center Concert Hall. The Musician's Concert features an eclectic mix of music from around the globe performed by gifted musicians/composers in residence, at 8 p.m. Tuesday, Aug. 3, in the Olin Arts Center Concert Hall. Global Exchange: Sharing Across Cultures, a panel discussion with visiting artists from Mexico, Cape Verde, Vietnam and Cuba takes place at 8 p.m. Thursday, Aug. 5, in the Olin Arts Center Concert Hall. Moving In The Moment, an improvisational performance led by contact-improvisers Chris Aiken and Nancy Stark Smith with a diverse group of festival dancers and musicians, takes place at 8 p.m. Tuesday, Aug. 10, in Alumni Gymnasium.
Rounding out the festival's five-week season is the Festival Finale, featuring dancers of all ages and abilities performing modern, jazz and integrated dance works by Tere O'Connor, Gabe Masson, Cathy Young, James P. Colter and Sara Sweet Rabidoux. The Festival Finale takes place at 8 p.m. Saturday, Aug. 16, in Alumni Gymnasium.
View Comments