Wallach Tennis Center Hosts NCAA Division III Championships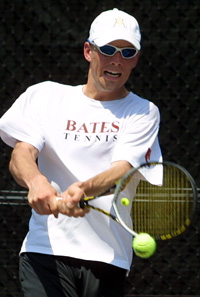 Bates hosted the 2004 NCAA Division III Men's Tennis Championships at the Wallach Tennis Center last week. Middlebury defeated NESCAC rival Williams 4-3 in a thrilling come-from-behind match to win the team title on Friday.
On Monday, UC Santa Cruz rookie Matt Seeberger won the individual singles title, while Dan Uyar and Paul Bristow of Mary Washington claimed the doubles title.
Bates's Will Boe-Wiegaard '06 (Georgetown, Conn.) earned the No. 8 seed in the singles tournament, but was unable to take advantage of his home court advantage, falling to Redlands' Brian Murphy 6-3, 6-2.
View Comments