Bates Dance Festival opens 22nd season with hoi polloi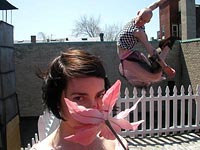 The Bates Dance Festival, celebrating its 22nd season of producing contemporary dance, presents hoi polloi in concert at 8 p.m. Saturday, July 17, in Schaeffer Theatre, College Street. A discussion with the artists immediately follows the concert.
Tickets are $15 for general admission and $10 for students and seniors and may be purchased by calling the festival box office at 207-786-6381.
Founded in 1997, hoi polloi has become one of Boston's hottest contemporary dance companies. Choreographer/director Sara Sweet Rabidoux refers to her work as "dances made from scratch" but they are hardly thrown together. Full of madcap humor, Rabidoux's finely crafted gems reflect the view of a new generation of dancemakers. Mining contemporary culture for its meaning and its madness, hoi polloi serves up devilish hilarity infused with little musings on life's darker side.
Boston Herald dance critic Theodore Bale calls Rabidoux "Boston's most fearless and cinematic choreographer. She continues to send us menacing postcards from the deepest recesses of her dazzling imagination, and they're progressively more astounding."
"In her dances, Rabidoux tells stories of lives as they are being experienced by the next generation," says dance scholar and critic Suzanne Carbonneau '76. "Her choreography is smart, sassy, madcap and poignant…I have no doubt Rabidoux has the potential to make a real impact on American dance." The company's performance and residency are made possible in part by the New England Foundation for the Arts as part of the National Endowment for the Arts Regional Touring Program.
In addition to its main stage performance series of 15 concerts, the Bates Dance Festival offers two intensive training programs, one for adults and one for younger dancers. For more information, or to request a brochure, contact the festival at 207-786-6381; this dancefest@bates.edu; or visit the website.
View Comments