Hip-hop legend Rennie Harris presents 'Facing Mekka' at Bates Dance Festival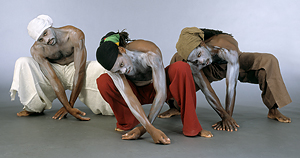 Philadelphia's Rennie Harris, one of hip-hop's leading ambassadors worldwide, brings his company, Puremovement, back to the Bates Dance Festival for the 2004 Maine premiere of Facing Mekka, a work co-commissioned by the festival and conceived at Bates in 1998. The festival presents Rennie Harris Puremovement in concert at 8 p.m. Thursday through Saturday, July 22-24, and at 3 p.m. Sunday, July 25, in Schaeffer Theatre, College Street. Tickets are $25/$15 (students and seniors) and may be purchased by calling 207-786-6161 after July 10. (Facing Mekka is appropriate for people of all ages.)
Facing Mekka explores the global face of Islam through a collage of movement, rhythm, sound and image. In Mekka, Harris takes hip-hop beyond its commercial context to address a fractured world, linking the personal, political and spiritual to create a work unifying many peoples and cultures. Harris uses the positive energy of dance as a creative and spiritual force to present an epic journey through global hip-hop. "The message goes beyond the sensational dazzle of head spins and dives," wrote a Village Voice critic. "It encompasses the wish to be identified and to identify oneself as an individual."
The production features a star-studded cast of 17 dancers, turntablists, percussionists and vocalists, including Grisha Coleman, Philip Hamilton and "the human orchestra" Kenny Muhammad. Facing Mekka also features a Butoh-style hip-hop solo performed by Harris.
With Mekka, "Harris has built a wedge that will open the doors of America's art centers, displaying hip-hop as clear cultural expression, compelling to all races and generations," wrote a Philadelphia Inquirer reviewer. The work was premiered in 2003 at New York's Joyce Theatre and continues to grow in importance and relevance as it tours nationwide.
Raised in North Philadelphia, Harris is a pioneer in performing, choreographing and teaching hip-hop, and is a long-time participant in the Bates Dance Festival's Commissioning, Residency and Performance program.  Intrigued by the universality of hip-hop, he has brought the form's vernacular from its urban North America roots to the concert stage, creating a cohesive dance style that finds a cogent voice in the theater.
He traveled internationally with the "Fresh Festival," the first U.S.-organized hip-hop tour, starring Run DMC, Fatboys, Curtis Blow and Whodini. He has worked with Kool Moe Dee, West Street Mob, Salt 'n' Pepa and other noted hip-hop stars, and has taught workshops and classes throughout the United States. The recipient of numerous awards, including a Pew Fellowship, Harris was voted one of the most influential people in the last hundred years of Philadelphia history.
Rennie Harris Puremovement has performed for sold-out houses throughout the United States and abroad since its inception. Following the Philadelphia premiere of Rome & Jewels, a retelling of the classic romantic tragedies of Romeo and Juliet and West Side Story through the cultural lens of contemporary urban youth, it became the longest running hip-hop production to grace American stages.
Washington Post dance critic Suzanne Carbonneau will give two pre-performance lectures on Harris' work, at 7:15 p.m. Friday, July 23, and Saturday, July 24, in Schaeffer Theatre, College Street. Free and open to the public, the lectures are part of "Inside Dance," an educational program of the Bates Dance Festival funded in part by the National Endowment for the Arts.
At press time the Bates Dance Festival gratefully acknowledges support for Facing Mekka from the National Endowment for the Arts, Ford Foundation, LEF Foundation, Surdna Foundation, Altria, Banknorth Charitable Foundation, Cole Haan, Androscoggin Savings Bank, Mechanics Savings Bank and Liberty Mutual Insurance.
View Comments