Tere O'Connor presents 'Lawn' at Bates Dance Festival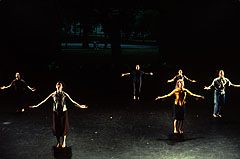 New York dance maker Tere O'Connor, a leading postmodern choreographer, brings his company Tere O'Connor Dance to the Bates Dance Festival Bates for the 2004 Maine premiere of Lawn , a work co-commissioned by the festival. The festival presents Tere O'Connor Dance at 8 p.m. Friday and Saturday, July 30 and 31, at Schaeffer Theatre, College Street. Tickets are $17/$10 (students and seniors) and may be purchased by calling 207-786-6161 after July 10. (Lawn is appropriate for people of all ages.)
O'Connor constructs worlds on stage that are richly textured, darkly humorous and emotionally compelling. In his new evening-length multimedia work, Lawn , O'Connor adds video to his masterful blend of theater and choreography in a provocative union of environmental issues and the poetics of dance. From "hyper-Bavarian," romanticized depictions of forests, to the most extreme visions of contamination, the work ponders the evolving human relationship to nature and the degradation of the natural world.
Assimilating concepts such as changing eco-systems, recycling, cultivated gardens, trash and the random growth patterns of the wild into its creative process, Lawn weaves a series of narrative/abstract films into the stage action to create a multi-faceted theatrical vision of their co-existence. The production's score comprises electronically disfigured natural sounds, an orchestra of whistlers and a homemade zither, created by composer James Baker; lighting by Tony award-winning designer Brian MacDevitt and video by critically acclaimed filmmaker Ben Speth.
O'Connor has been making dances since 1982 and has created more than 30 works for his company. The company has performed throughout the United States, Europe, South America and Canada. O'Connor has created numerous commissioned works for dance companies around the world. He received a John Simon Guggenheim Fellowship in 1993 and has received two New York Dance and Performance "Bessie" Awards, including one for Sustained Achievement. O'Connor created a new solo work for Mikhail Baryshnikov, titled Indoor Man , which premiered in May 2003. He recently served as a movement consultant for a new film produced by Blue Sky Studios and directed by Ice Age director Chris Wedge.
Washington Post dance critic Suzanne Carbonneau will give a pre-performance lecture focused on O'Connor's work at 7:15 p.m. Saturday, July 31, in Schaeffer Theatre. Free and open to the public, the lecture is part of "Inside Dance," an educational program of the festival, funded, in part, by the National Endowment for the Arts.
At press time the Bates Dance Festival gratefully acknowledges support for Lawn from the National Endowment for the Arts, LEF Foundation, Altria, Banknorth Charitable Foundation, Cole Haan, Androscoggin Savings Bank, Mechanics Savings Bank and Liberty Mutual Insurance.
View Comments