Class of 2008 at a glance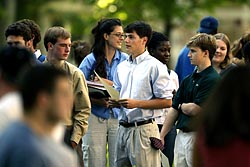 Bates received 3.5 applications for every first-year student admitted to the Class of 2008, with 467 new first-year students expected when the fall semester starts Sept. 8.
There were 4,250 applications from more than 100 countries and all 50 states.  In all, some 1,690 students are expected on campus this fall, with another 59 in Bates-sponsored programs in Japan, Berlin, Cape Town and London.
"The Admissions Committee continues to be impressed with the high quality of the students who are choosing to apply and then matriculate at Bates," says Dean of Admissions Wylie Mitchell.
Bates remained very selective this year, with an acceptance rate of 28 percent. At 40 percent, the proportion of accepted students who sent deposits (in academic parlance, the "yield") also continued very high.
The gender ratio in the new class remains near parity, with 233 women and 234 men. In addition to the first-year students, students new to Bates include six women and three men transferring here from other colleges or universities.
The Class of 2008 includes 43 U.S. citizens who identified themselves as racial or ethnic minorities, 17 international students, and another 17 students who hold dual citizenship in the United States and another country.
The foreign countries represented in the first-year class include Burkina Faso, Ecuador, Egypt, Germany, Ireland, Jamaica, Japan, Kenya, Korea, Macedonia, Nepal, Saudi Arabia, Slovakia, Sweden, Trinidad and Tobago, Turkey and Vietnam. In all four class years, there are 135 international students. Bates students represent 68 countries, either by birth or by citizenship.
The Class of 2008 includes students from 40 states. New England states provide 61 percent of the total, with 135 students from Massachusetts, 48 from Maine, 36 from Connecticut, 40 from New Hampshire, 14 from Vermont and 12 from Rhode Island.
Other states sending 10 or more students are New York (47), New Jersey (18), California (11) and Pennsylvania (10).
View Comments