AESOP provides fabulous adventure for new students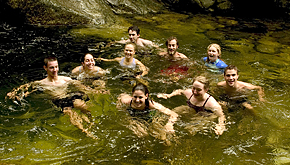 Organized and run by students, the Annual Entering Student Outdoor Program — commonly known by its acronym, AESOP —  puts Bates first-years, guided by older peers, onto hiking trails and into kayaks.
With about 60 percent of first-year students taking part in 38 three- and four-day excursions, the program's intent is to introduce first-years to Maine and to each other without the distractions of campus. "There is no better way to get to know your new home state than to get out in it and have some fun," says senior Josh Harris of New Orleans, La., this year's AESOP coordinator.
"You can backpack on the Appalachian Trail, float the lazy Saco River, or pass the time chillin' in Acadia," Harris says. In addition to hiking and water-based outings, there are service trips designed to place students as helpers in local soup kitchens and community gardens. Others can try a Zen retreat, followed by outdoor service work, on the coast of Maine.
Many 2007 AESOP leaders themselves participated in the program as first-year students and have returned to share good times with members of the Class of 2008. At Bates, trip leaders have started to organize equipment and supplies. First-year participants arrive on campus Aug. 25 and begin their three- and four-day trips the following day. AESOP ends with an on-campus barbecue Friday, August 29, that precedes the official start of Orientation.
View Comments