Nader's vice presidential running mate to address students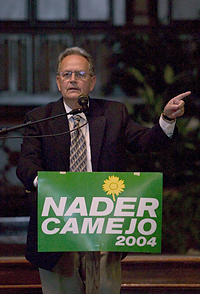 Peter Miguel Camejo, longtime antiwar and social justice activist and the vice presidential running mate of independent presidential candidate Ralph Nader, will address students of History 265, "Wartime Dissent in Modern America", at 2:40 p.m. Monday, Sept. 20, in the Bates College Chapel. Taught by Associate Professor of History Hilmar Jensen, the course explores, in part, "what the long-term consequences of even short-term curtailments of freedom portend for the future of American democracy." The event is open to the Bates community free of charge.
Selected by Nader as his running mate in June, the 64-year-old Camejo is a financier, businessman, political activist, environmentalist, author and a founder of the socially responsible investment movement. "Camejo shares my concerns for economic and social justice as well as the urgent need to protect our environment," Nader announced in prepared remarks.
Camejo chairs the Board of Progressive Asset Management of California, an investment firm he founded in 1987. Born in New York and a first-generation American of Venezuelan descent, Camejo has fought for social and environmental justice since his teens. He marched in Selma, Ala., with the Rev. Martin Luther King Jr., rallied for migrant farm workers and was active against the war in Vietnam. His most recent run for office was as a Green Party candidate in the gubernatorial recall election in California.
View Comments