Debater places first at novice parliamentary debate championships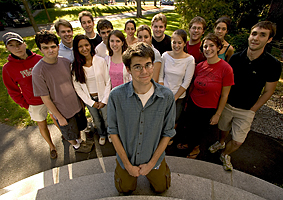 Led by first-year student Brendan Jarboe of Acton, Mass., Bates College debaters swept the 2004 American Parliamentary Debate Association's Novice Championships, held Sept. 24 and 25 at Boston University. The tournament is organized specifically for debaters competing for the first time at the collegiate level.
Steamrolling through a field of 80 teams composed of 160 debaters from approximately 18 universities, including Brown, MIT and Yale, Jarboe won first place in the individual speaker category. Like many of his novice teammates, Jarboe, an accomplished extemporaneous speaker in high school, had little debate experience before arriving at Bates.
Other novice Bates competitors also posted excellent results in this category, including sophomore Racheal Pool, of Yarmouth, who finished as sixth-place speaker, and first-year student Lauren Pluchino of Horseheads, N.Y., who finished in 15th place. In the team category, Pool and her partner, sophomore Louis Dennig of Woodland Hills, Calif., placed fourth, while Jarboe and his partner, first-year David Kelly of Bangor, placed sixth in the competition.
Under the direction of debate coach Bryan Brito, Bates' Brooks Quimby Debate Council took 21 members composing eight teams with five judges to the BU tournament. This was the largest number of debaters Bates sent to the novice tournament in 20 years, and a bigger squad than any other school except for Harvard. Discussing the talents of his newest students, Brito said: "We have an incredible new class of novice debaters, all showing a tremendous amount of promise."
Continuing its regular season at Smith College Oct. 1 and traveling up and down the East Coast throughout the academic year, the Bates debate team will travel to England for contests with Oxford and Cambridge universities in November, and to Malaysia for the Worlds University Debate Championships in December. Brito is planning to add a stop at Trinity University in Dublin for spring 2005.
The Brooks Quimby squad ranked among the top teams in the nation last year, winning the 2003 APDA's Novice Championships with 2007 classmates Ryan Creighton and Michael Neville-O'Neill and sending the largest Bates contingent ever (eight debaters) to the APDA nationals at Swarthmore University. Racking up speaker and/or team awards at every tournament it attended over the last year, Bates bested Bowdoin last May in the periodic President's Cup, named because each of the respective college presidents are present.
---
Related Stories
View Comments