Senior exhibits documentary images of wine harvest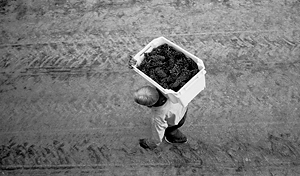 Bates senior Ryan Heffernan of Napa, Calif., exhibits Portraits of the Harvest 2004, a series of black and white photographs of workers harvesting grapes in Mendoza, Argentina, and in his hometown, in Chase Hall Gallery, Campus Avenue, Bates College. The public is invited to attend the exhibition, on display through Oct. 18, at no charge. A two-hour reception with the photographer will be held in the exhibtion space at 4 p.m. Saturday, Oct. 9.
Heffernan grew up in the small town of St. Helena in the heart of the Napa Valley. Each fall, he remembers, the valley would be transformed as the wine industry geared up for the grape harvest. Thousands of predominantly Mexican migrant laborers would arrive to fill the immense labor demand created by the harvest.
"I was always fascinated by the lives of these workers and how their hard labor contrasted with the sophisticated and delicate world of wine," Heffernan says.For his junior year at Bates, Heffernan decided to explore the world of the grape harvest, both in his backyard of Napa, and abroad in the wine region of Mendoza. "Within the context of a photographic essay, I sought a greater understanding of the lives of the harvesters who are truly the backbone of the wine industry," the art major says.
View Comments