Debate team takes on Oxford, Cambridge, the Worlds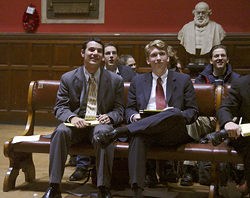 "It has been a fantastic year," said debate coach Bryan Brito. "Once again Bates debaters won the novice tournament, and we have trophied at virtually every tournament we have attended."
In mid-November, Bates traveled to inter-varsity debate tournaments at Oxford and Cambridge universities, where the Bates team of Ryan Creighton '07 of Lyme, N.H., and Mike Neville-O'Neill '07 of Rowley, Mass., took second place out of 100 teams competing at Oxford.
At the end of December, Bates sends two teams (Creighton and O'Neill compose one team, Vaibjav Bajpai of Calcutta, India, and Casey Pfitzner '07 of Spotsylvania, Va., the other) to Malaysia for the 2005 World Universities Debating Championships. Accompanied by coach Brito and Brooks Quimby Debate Council president Collin Keyser of Pennsburg, Pa., the Bates teams will compete against more than 300 teams from all over the world.
Currently, Bates ranks number 22 in the world, says Bajpai. "We're ahead of Stanford, Columbia, Harvard, Brown, the University of Chicago and Williams," he adds. "Only Princeton, Yale, the University of La Verne and Fordham have better scores than Bates in the United States."
"The Worlds should be a good tournament for Bates," says Brito. "We are taking sophomores, so we have many years to build on our success."
Leave a Reply
This is a forum for sharing your thoughts about the preceding post with the public. If you have a question for the author, please email the Bates Communications Office at communications@bates.edu.