---
Multicultural Center presents exhibition for Black History Month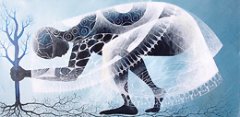 A showing of work by Portland artist Daniel Minter will be on display at Bates College through Feb. 28 in an exhibition presented for Black History Month. "A Heavy Grace: Paintings and Sculpture" opens with a gallery reception featuring food and music from African American and Brazilian culinary traditions at 4:30 p.m. Friday, Feb. 4, in Chase Hall Gallery, Chase Hall, Campus Avenue, Bates College. The public is invited to attend the reception and the exhibit, both sponsored by the Multicultural Center, free of charge. Call 207-786-8376 for more information.
Minter is a painter, sculptor, illustrator and arts educator whose work is steeped in the context of African American and African diaspora culture. The designer of the 2004 U.S. Postal Service Kwanza stamp, he is a noted illustrator of several children's books.
"Minter collects the implements, the figures, the cultural tools of Black experience in diaspora and gives them iconic status," writes Latin American historian and theologian Rachel Harding. Says Harding: "Many of the figures in Minter's art are those of ordinary black life, especially of the mid-20th century rural south: hot combs and axes; straw brooms and jack-knives; snakes, jars and crows; round women, big men and long-limbed trees. Through his skilled gaze and carefully honed instinct, Minter elicits deeper meanings from the mundane."
---
Categories:
Arts and music
,
Bates Now
,
Creativity
,
Diversity
,
Partners and public
,
Performing and visual arts
.
Tags:
African diaspora
,
Black History Month
,
Chase Hall Gallery
,
multicultural center
.
---
Contact Us