Fight the late-winter blues with Chekhov play, classical music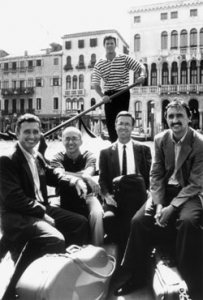 This weekend, the Bates College Orchestra, a string quartet from Italy and a Chekhov drama in a new translation promise ample distraction from the Endless Winter of 2005.
Starting at 8 p.m. Friday and running through March 19, the theater department presents six weekend performances of Anton Chekhov's tragicomic play The Three Sisters in the world stage premiere of a translation by Laurence Senelick, professor of drama at Tufts University. The site is Schaeffer Theatre and admission is $6 for the general public and $3 for seniors and non-Bates students.
Same date, same time, the Bates College Concert Series ends its season with a program of Italian music by Quartetto di Venezia, a string quartet acclaimed for a distinctively Italian style that one reviewer described as "fresh and brilliant." Admission to the concert, in the Olin Arts Center Concert Hall, costs $8 for adults and $5 for senior citizens and non-Bates students with ID.
Finally, in his last performance with the Bates College Orchestra, Philip Carlsen conducts the ensemble in music by Haydn, Wagner and Copland at 8 p.m. Saturday. The concert features Amy Saffer '05 as soloist in Haydn's Horn Concerto No. 1 in D major. The concert, also in the Olin concert hall, is open to the public at no cost.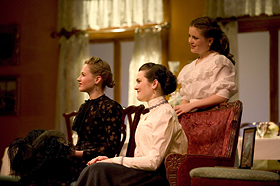 Published in 1901, The Three Sisters is the story of three sisters and a brother, members of the privileged class, stuck in a provincial backwater and pining for the excitements of Moscow. "This is a play that's always relevant to the way things are," says Martin Andrucki, director of the theater department production and Dana Professor of Theater.
"It inhabits that space between hope and despair where most people spend most of their lives. Everyone in the play is longing for fulfillment, and everyone discovers the inevitability of loss and compromise."
Recipient of a variety of awards for scholarly work in theater, Senelick is also the author of The Chekhov Theatre: A Century of the Plays in Performance (Cambridge University Press, 1997). The translation that Bates is premiering was among five Senelick renderings of Chekhov plays published last fall in a W.W. Norton collection, Anton Chekhov's Selected Plays.
Performances will be held at 8 p.m. Fridays and Saturdays, March 11-12 and 18-19, and 2 p.m. Sundays, March 13 and 20. For reservations and more information, please call the box office at 207-786-6161.
Celebrating its 20th anniversary season in 2004-05, Quartetto di Venezia will perform music by Verdi, Boccherini and other Italian composers.
Meeting at a conservatory in Venice and influenced by the Quartetto Italiano and the Vegh Quartet, both well-known in Europe, the quartet forged an interpretive approach emphasizing the quality of sound and the individuality of each instrumental voice.
The quartet's repertoire ranges from classicists such as Beethoven, Mozart and Boccherini to modernists like Karl Amadeus Hartmann and Gian Francesco Malipiero. They have performed throughout Italy and abroad, including the United States, Latin America, Japan and South Korea, and have recorded extensively.
For additional information about the series and Olin Arts Center Concert Hall, please see the series Web site. For reservations, please call 207-786-6135.
In addition to the Haydn concerto, Saturday's program by the 35-member orchestra consists of Wagner's Siegfried Idyll and Copland's Appalachian Spring. Carlsen, a composer well-known in Maine and beyond, resumes his full-time faculty position at the University of Maine at Farmington after this academic year. For the past two years he split his time between Farmington and Bates, and the year prior was at Bates full time.
Saffer, of Stow, Mass., is a psychology major. She has played with the Bates College Orchestra for four years and been principal horn for three, and has performed with the Androscoggin Valley Community Orchestra, Bates College Choir Orchestra and the Bates brass and woodwind quintets.
Wagner composed the Siegfried Idyll as a birthday surprise for his wife, Cosima, and named it after their infant son. Having prepared the piece in secret, Wagner and his musicians first it performed as Cosima was waking up on Christmas morning in 1870. Intimate, calm and lyrical — an expression of the composer's newfound domestic happiness — Siegfried Idyll is Wagner's most popular orchestral piece.
With its highlight a theme adapted from the Shaker hymn "Simple Gifts," Copland's Appalachian Spring also has idyllic connotations for many, symbolizing a kind of pastoral optimism that's distinctly American. Subtitled "Ballet for Martha," it was written to accompany a ballet by the choreographer Martha Graham and was first performed at the Library of Congress in 1944.
View Comments