Fourth annual Mount David Summit celebrates student achievement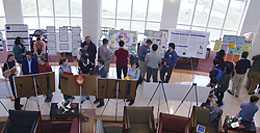 Offering poster presentations, panel discussions, exhibits and performances, more than 250 Bates College students will take part in the fourth annual Mount David Summit, starting at 2:45 p.m. Friday, April 1, in Pettengill Hall, Andrews Road.
The summit, designed to celebrate academic achievement at Bates, will showcase student research in topics as diverse as the environmental impact of Maine bloodworm diggers, state secularism in France and the imagery used to market pharmaceuticals to consumers. In the evening, the college's choir and Modern Dance Company offer performances.
The Mount David Summit and related weekend performances are open to the public at no charge. For more information, click here.
Established in 2002 to demonstrate the scope of student accomplishment at Bates, the summit gives students in all disciplines, and from first-years to seniors, an opportunity to share with the community their research, service-learning and creative work. The event is named for the "mountain" that is a campus landmark.
Beginning at 2:45 p.m., students working in biochemistry, biology, environmental studies, geology, mathematics and psychology will present research posters in an informal arena-style setting in Pettengill Hall's Perry Atrium.
At the same time, panel sessions featuring short talks will take place in Pettengill Hall classrooms on topics in education, politics and communities, public health and social psychology, and the humanities.
Two concurrent poster sessions begin at 4:30 p.m. In Pettengill's Keck Classroom (G52), students will present research on biochemistry, biology, chemistry, environmental studies and geology. In the first-floor atrium, neuroscience and psychology students will show their work. Meanwhile, in other Pettengill classrooms, short talks and panel discussions will illuminate issues in science and math, Francophone studies, the history of Japanese-American internment camps in World War II and contemporary sociology.
Two exhibitions will be on view during the summit. The annual Off-Campus Study Photography Exhibition, also in Pettengill Hall, features striking images of distant locations captured by students studying from Bates. Advanced photography students of Elke Morris, lecturer in art and visual culture, will exhibit new work in Chase Gallery, Chase Hall, 56 Campus Ave.
The dance and choir performances both begin at 8 p.m. Under the direction of Carol Dilley, assistant professor of dance, the Bates Modern Dance Company holds its annual spring concert of new works, including some choreographed by students, in Schaeffer Theatre, 305 College St.
The program will be repeated at 8 p.m. Saturday, April 2, and 2 p.m. Sunday, April 3. For more information about the dance concerts, please call 207-786-6161.
John Corrie, lecturer in music, directs the Bates College Choir in its annual spring concert in the Olin Arts Center Concert Hall, 75 Russell St. The choir program will be repeated at 8 p.m. Saturday, April 2. For more information, please call 207-786-6135.
View Comments