Bates selected as "College with a Conscience"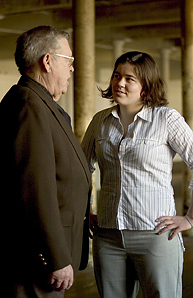 Bates College is one of the nation's best colleges fostering social responsibility and public service, according to The Princeton Review and Campus Compact. It is one of 81 institutions in 33 states that The Princeton Review commends and features in its forthcoming book, Colleges with a Conscience: 81 Great Schools with Outstanding Community Involvement (Random House / Princeton Review Books, 2005). Available in bookstores on June 21, the book has two-page profiles on each college and advice for applicants.
"A college with a conscience," says Robert Franek, Princeton Review vice president, admissions services, "has both an administration committed to social responsibility and a student body actively engaged in serving society. Education at these schools isn't only about private gain: it's about the public good."
"We are honored to receive the national recognition that comes with inclusion in this publication," said Sue Martin, associate director of the Bates College Center for Service-Learning. "Service-learning has a long history at Bates, and this brings particular attention to the academic emphasis of our work. It is a tribute to our community partners, our faculty, and most of all, our students," Martin said.
The Princeton Review, which produces classroom and online test-prep courses, books and other education services, partnered with Campus Compact, a national organization committed to the civic purposes of higher education, to develop Colleges with a Conscience and choose the schools featured in the book.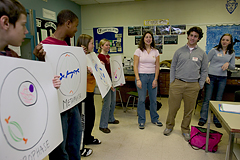 The book's editors also invited dozens of organizations with expertise in campus community service and student engagement to nominate colleges for inclusion. Criteria included the college's admissions practices and scholarships rewarding community service; support for service-learning programs, student activism and student voice in school governance; and level of social engagement of its student body.
The Princeton Review and Campus Compact winnowed a list of 100 schools from a pool of more than 900 colleges. From this shortlist, the editors collected extensive data about schools' service programs and policies, surveying their students and faculty/staff. The 81 schools chosen for Colleges with a Conscience represent a diverse range of institutions by geographic region, campus size, setting (urban/rural) and type (public/private).
View Comments