Bates names sports information director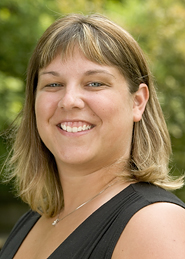 Jenny Allen has been named Bates College sports information director in the Office of Communications and Media Relations. She assumed her duties July 5.
A native of Lewiston and graduate of Lewiston High School, Allen received her bachelor of science degree in sports administration from the University of Massachusetts at Amherst. Allen served as assistant sports information director at the State University of New York at Brockport while completing her master's degree in athletic administration. She was named interim sports information director at SUNY-Brockport last year.
As Bates' SID, Allen will present Bates' athletic programs to prospective students, alumni, the campus community and the general public through media relations, publications and electronic communications, including the Web. Allen's primary responsibilities include media relations for Bates' 30 varsity sports; game management and game day programs; maintenance of the Bates' Athletics Web site; compilation of statistics; acting as liaison to the New England Small College Athletic Conference (NESCAC); and production of athletics recruitment publications.
Allen replaces interim sports information director Matt Gagne and Aaron Todd, who served as the sports information director until December 2004. Bates is a member of the NCAA Division III and NESCAC. Other NESCAC members are Amherst, Bowdoin, Colby, Connecticut College, Hamilton, Middlebury, Trinity, Tufts, Wesleyan, and Williams.
View Comments