Athletic director named regional AD of the Year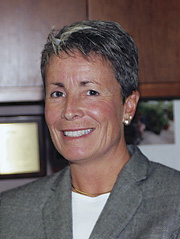 Bates College Director of Athletics Suzanne Coffey has been selected as Division III athletic director of the year for the northeastern United States.
Her selection as the 2004-05 Division III Northeast Region NACDA Athletic Director of the Year was announced recently by the National Association of Collegiate Directors of Athletics' (NACDA), 1,600 member directors of athletics. The criteria for selection included service as an AD for a minimum of five academic years; demonstration of commitment to higher education and student-athletes; continuous teamwork, loyalty and excellence; and the ability to inspire individuals or groups to high levels of accomplishments.
"It is a high honor for Suzanne Coffey to be singled out among many distinguished peers," said Bates President Elaine Tuttle Hansen. "This is well-deserved recognition of her excellent work with our student-athletes and an exceptional coaching staff."
Coffey said the honor reflects on the quality of her coaching staff. "I believe we at Bates are fortunate to have the best coaching staff in the Northeast," she said. "2004-05 was our strongest competitive year on record. Beyond the teams' successes, our coaches garnered a record number of Coach of the Year honors. Our accomplishments are the measurable expression excellent coaching, multi-talented student athletes, and the College's commitment to winning."
NACDA is divided into four geographic regions – northeast, southeast, central and west; its membership is separated into six categories – Division I-A; Division I-AA/I-AAA combined; Division II, Division III; NAIA; and Junior/Community Colleges. One winner was selected in each of the six categories, along with a cross-divisional international winner for a total of 25 honorees. In the Northeast region there are 110 Division III institutions who are members of NACDA. Winners were recognized at NACDA's 40th Anniversary Convention in Orlando, Florida on June 16.
Coffey was appointed the director of athletics and chair of the department of physical education at Bates College in 1991. She has also been consistently involved in the NCAA Division III governance structure; she recently served as the chair of the NCAA's Management Council. Coffey was also a member of the NCAA's Executive Committee, was appointed to the Joint Subcommittee of the President/Management Councils on the Future of Division III and has just completed concurrent terms on the Division III Budget, Strategic Planning and Championships committees and the Management Council's Subcommittee on Playing and Practice Seasons.
In 1999, she was named a Sports Ethics Fellow with the Institute for International Sport and received the Institute's Frank W. Keaney Award in 2002. She was also honored as the National Association of Collegiate Women Athletic Administrators Division III National Administrator of the Year in 2001-02. Prior to her arrival at Bates in 1985 as an assistant professor of education, associate director of athletics and coach of women's lacrosse, Coffey was a member of the coaching staffs at Bowdoin College and the University of New Hampshire. She holds a bachelor's degree from the University of New Hampshire, a master's degree in public policy from the University of Southern Maine's Edmund Muskie School of Public Service. Coffey is a doctoral candidate at the University of Southern Maine.
View Comments