Jane Comfort and Company perform at Bates Dance Festival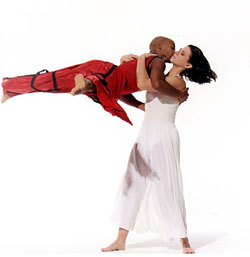 Jane Comfort and Company returns to the Bates Dance Festival to present Persephone and Underground River.
Hailed by New York Times dance critic Ann Kisselgoff as "one of the most fertile minds in the theater of mixed forms," Comfort and her company perform in concert at 8 p.m. Friday, July 22, and Saturday, July 23, in Schaeffer Theatre, College Street.
Tickets are $18/$12 (students and seniors) and may be purchased by calling 207-786-6161 after July 9. (The production is appropriate for an audience of all ages.)
In Persephone, her latest work, Comfort masterfully integrates text, movement, music and visual design. She retells the classic Greek myth with "touching simplicity and elegant compositional craft," writes Village Voice critic Deborah Jowitt. Persephone is accompanied by composer Tigger Benford's nuanced score for four musicians based on Javanese gamelan musical structures.   Internationally recognized sculptor Keith Sonnier will create neon and fiber optic sculptures that infuse the theatrical space with a sense of both nurture and dread.
Comfort will also present her profound theatrical tour de force Underground River. This beautiful and disturbing work for four dancers and a simple puppet, created by Basil Twist, tells of the soaring spirit of a child in a coma.
Comfort is a choreographer, writer and director whose work spans the dance and theater worlds. A pioneer of multidisciplinary work since the 1970's, she is known for issue-oriented work integrating text and movement.
The recipient of many prestigious awards, Comfort was associate director and choreographer of Stephen Sondheim and James Lapine's Broadway musical Passion, which won a Tony Award for best musical.
In 2003 Comfort choreographed The Public Theater's Shakespeare in the Park production of Much Ado About Nothing. In 1998 she received a BESSIE Award for Underground River.
Jane Comfort and Company have performed in such venues as Lincoln Center, The Joyce Theater, Performance Space 122 and Dance Theater Workshop in New York, The American Center in Paris, Antwerp's de Singel Theater, The American Dance Festival, Actors Theatre of Louisville, Jacob's Pillow, The Walker Art Center, Portland Institute for Contemporary Art and the Baltimore Art Museum. The Chicago Sun Times callsPersephone and Underground River "richly imagined works . . . about change, loss, isolation and the strange sensations of dislocation."
In addition to main stage performances, the festival offers a selection of free and low-cost events. Complete information is available at the website: http://www.bates.edu/dancefest
View Comments