Maine Art Museum Trail TV series visits Bates College Museum of Art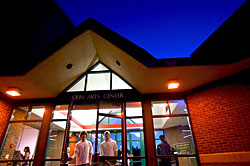 The Bates College Museum of Art is the subject of a half-hour profile in the television series The Maine Art Museum Trail, an original production of the Maine Public Broadcasting Network. The program will be broadcast at 7:30 p.m. Saturday, Aug. 20, on the stations of MPBN.
The program explores the museum's role as a resource and nexus for explorations of art and visual culture — a "laboratory" for the visual arts that serves the college and the community.
Featured prominently is the Marsden Hartley Memorial Collection, composed of art and documentary materials by or about this pioneering American modernist, a Lewiston native. The collection, donated 50 years ago, gave the museum its start. Museum director Mark Bessire discusses Hartley's influence, which is evidenced in part by how many of his contemporaries were attracted to Maine because of him — artists such as Carl Sprinchorn, who is also featured in the program, and Vinalhaven pop artist Robert Indiana, who has devoted years to creating the painting series "The Hartley Elegies" (which will be the subject of a museum exhibition opening Oct. 1).
Also examined is performance art at Bates College, which is the academic home of William Pope.L, one of the country's preeminent performance artists. A segment depicts his students engaging their unwitting peers in a dialogue on race and the effects of globalization as part of a piece called The Black Factory, which has toured the East this summer.

Founded in the 1990s as a way to heighten awareness of Maine's rich history in the visual arts and design, the Maine Art Museum Trail links the state's seven best-known art institutions. In addition to the Bates museum, they are: the Farnsworth Art Museum, Rockland; the Bowdoin College Museum of Art, Brunswick; the Colby College Museum of Art, Waterville; the Ogunquit Museum of American Art; the Portland Museum of Art; and the University of Maine Museum of Art, Bangor.
The Bates installment is the sixth in the MPBN series, which debuted in 2003. The purpose of the series, according to executive producer Barbara Noyes Pulling, is to "provide a video showcase of the wide variety of artistic talent, high-quality art collections and top-notch museum facilities in Maine, [which exist] in outsize proportion to the state's small population."
The Bates episode re-airs at 1:30 p.m. Sunday, Aug. 21, and at 10:30 p.m. Saturday, Aug. 27. The seventh and last show in the series, profiling the Colby museum, will be broadcast at 7:30 p.m. on Aug. 27. It will be followed by back-to-back rebroadcasts of the six earlier programs.
View Comments