NCAA honors Phil Barr '05, swimmer and survivor of Station fire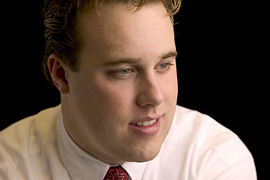 Bates College swimmer Phil Barr (Lincoln, R.I.), a survivor of the 2003 Station nightclub fire in West Warwick, R.I., who made an inspirational return to varsity swimming his senior year despite damaged lungs, was named the male 2005 NCAA Sportsmanship Award winner.
"I have seen courage, compassion, selflessness and determination displayed in many ways over the years, but never more than what Phil Barr displayed at Bates," said his coach, Dana Mulholland.Barr, a four-year competitor who graduated with an economics degree in 2005, was "a teammate, confidant, leader and role model," according to head coach Dana Mulholland.
But the example Barr set in 2004-05 outshone even those qualities.
Barr suffered burns and lung damage in the fire that killed 100 people on Feb. 20, 2003. He was placed in a drug-induced coma for 21 days and was released with about 45 percent lung capacity. After more than a year of intense rehabilitation, he returned to Bates in September 2004.
Despite just 87 percent lung capacity, he rejoined the swim team and competed, but not without more physical suffering. "Swimming induced tremendous coughing and discomfort daily," Mulholland said. "Yet Phil never talked of his plight, and he never expected special treatment and never made excuses. He attended all practices — including double sessions during break — and meets, and he trained as hard as anyone on the team."
Before and after his ordeal, Mulholland said, Barr helped develop positive team policies, promoted responsible social behavior, inspired a serious practice attitude and advocated dedication to off-season conditioning.
At season's end, Barr faced another challenge: pneumonia. Diagnosed two days before the New England Small College Athletic Conference championships, Barr was resigned to sitting out the final meet of his career. But he showed up on the second day of competition to support his teammates, and Mulholland said his arrival "inspired some great performances from his fellow swimmers."
As a token of his and the team's great appreciation, Mulholland invited Barr to swim the butterfly leg of the medley relay preliminary, as the team was guaranteed a spot in the final. "Phil completed the leg, exhausted but fulfilled," the coach said. Barr then relinquished his spot for the finals to make the team more competitive. At the finals, Barr was the loudest supporter during the race, Mulholland said.
The NCAA Sportsmanship Award is presented by the organization's Committee on Sportsmanship and Ethical Conduct. It honors student-athletes who, through their actions in the competitive arena of intercollegiate athletics, have demonstrated one or more of the ideals of sportsmanship, including fairness, civility, honesty, unselfishness, respect and responsibility.
"I am thrilled by Phil's award," said Suzanne Coffey, director of athletics, "because he embodies all aspects of this honor. In a sports culture that too often puts the individual before team, Barr's dedication, respect and selflessness encompass the definition of student-athlete. We at Bates are fortunate to have an athletics culture that celebrates sportsmanship and decency in every aspect of life, and Phil perfectly symbolizes these qualities."
"Phil is polite, gracious and humble in his interactions with teammates, coaches, officials, parents and opponents," Mulholland added. "He is always aware of his teammates' goals, and his teammates and others are always more important to him than he is. In swimming, a sport known for the recognition of individual performance, 'team' is a real term for Phil."
Barr has founded an organization to donate time and funding to victims of The Station fire and their families. Barr now works as an investment bank analyst at JP Morgan in New York City.
A complete story of Barr and the Station night club fire can be found at www.bates.edu/x66344.xml
View Comments