$300,000 Mellon grant to support humanities, social sciences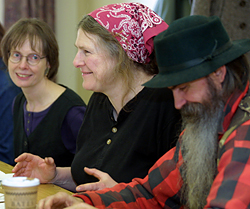 Bates College has received a $300,000 grant from the Andrew W. Mellon Foundation to fund a learning-associates program that in the past has involved experts like author Carolyn Chute and film director István Szabó in work with senior thesis students.
The Mellon Learning Associates Program in the Humanities and Social Sciences begins this fall and will continue for two years. With the addition of a social science component, the new initiative extends the Mellon Learning Associates Program in the Humanities that Bates established in 2001.
With more than 90 percent of Bates students completing a senior thesis — a significant research, service, performance or studio project — the Mellon Learning Associates program supports the participation of visiting experts and practitioners whose knowledge and experience can help illuminate new areas of inquiry.
"An important advantage of a small college like Bates is the opportunity for ongoing, in-depth faculty-student collaborations," explains Jill Reich, dean of the faculty. "But these ideas and projects may expand to questions no longer encapsulated by the expertise on campus. This program allows us to reach out to relevant experts in a flexible and timely manner, driven by the excitement and integrity of the ideas."
The program also expands the kinds of learning available to Bates students, Reich adds. "For example, learning associates might be practitioners who provide a real-world context for our students' learning, and help expand that learning by linking theory to applied contexts. Or they might be experts in innovative techniques not yet available in the college setting."
Like the previous Mellon program, the new initiative will support the participation of learning associates through long- and short-term residencies and distance learning. Author Chute, stage performer Avner Eisenberg and director Szabó (Being Julia) were among participants in the earlier program.
The Mellon Foundation has also supported the Bates environmental studies program through residential fellowships that have brought to campus such experts as nature photographer Will Richard, documentary filmmaker Melissa Paly and Brunswick, Maine, town planner Theo Holtwijk.
The latest Mellon grant continues a partnership that began in 1970, when the New York-based foundation awarded Bates a grant to enlarge the faculty and increase faculty pay. Since then, Mellon has supported Bates efforts to develop its curriculum, undertake collaborative programs with Bowdoin and Colby colleges and interact more closely with the Lewiston-Auburn community.
View Comments