Photography exhibit depicts Jewish life in the South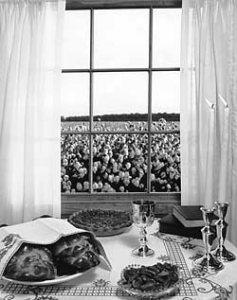 The Bates College Multicultural Center presents an opening reception for Bagels and Grits: Exploring Jewish Life in the Deep South, an exhibition of photographs by Bill Aron, at 5:30 p.m. Thursday, Sept. 22, in Chase Hall Gallery, 56 Campus Ave.
This photographic essay of contemporary Southern Jewish life features 46 images and text panels that explore home and community life, Jewish traditions and sacred spaces, livelihood and the South's changing character. The reception is open to the public free of charge, and the exhibition will be on display at Bates through Wednesday, Oct. 5. For more information, call 207-786-8376.
"Southern and Jewish are two words not often associated with each other," says Aron, author of Shalom Y'All: Images of Jewish Life in the American South (Algonquin Books, 2002). Aron's photographs, commissioned by the Museum of the Southern Jewish Experience in Jackson, Miss., portray the Southern Jewish experience through photographs and first-person stories.
Aron describes his work as a multidimensional portrait of contemporary Jewish life in Mississippi, Arkansas, Alabama, Louisiana and South Carolina as it has evolved from the early 1700s. His subjects, he says, are "people who are southerners as defined by their location and lifestyle and Jews by virtue of their religion and their heritage."
Aron's work is part of permanent collections at the Boston Museum of Fine Arts, the Art Institute of Chicago, the International Center of Photography, the Museum of Modern Art, the Jewish Museum and the National Museum of American Jewish History, among others.
Aron has had more than 20 solo exhibitions, taken part in more than 25 theme exhibitions and has contributed to a number of books. His work has been featured in many magazines and newspapers, including The New York Times, Time, Newsweek, The Washington Post and The Los Angeles Times.
The Multicultural Center celebrates and promotes the diverse cultural experiences that each member of Bates College brings to the community.
View Comments