---
Bates greets 'Ellis Island Snow Globe'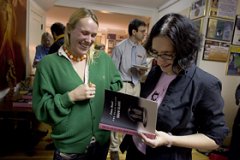 With a reception on Nov. 16, the Bates community extended a warm "well done" to Erica Rand for the publication of her second book, The Ellis Island Snow Globe (Duke University Press).
In a gathering sponsored by the office of Multicultural Affairs, students, staff and faculty took the opportunity to congratulate Rand, buy a copy of the book and request a signature. Held at Bates' Multicultural Center and arranged by the MCC staff, who laid on Latin music and a buffet featuring a chocolate fondue fountain, the festivity held out a taste of excitement against a damp and dark late afternoon.
Rand is a professor of art and visual culture at Bates and chair of the women and gender studies program. Hailed by one reader as "a wonderfully creative, playful and serious piece of scholarship," Rand's new book uses immigration to America, specifically through Ellis Island, as a lens to examine sex, money, material products, power and ideas of nationhood. The snow globe of the title, which Rand purchased in an Ellis Island gift shop, is just one of the kitschy items that used in the book to reveal connections — surprising, funny, provocative — among these themes.
Rand taps her own experiences, too, as departure points for her arguments. "The book deals with some issues important to me," she said during the reception. "I tried to write it in a personable and accessible style, and used personal anecdotes to raise issues."
"It's really important not to separate the people who are consumers of pop culture from the people who write about pop culture," she explained. "I consume pop culture — I buy Soap Opera Digest."
---
Related Stories
Nov.18:
Scholarship showcase
---
Categories:
Art and Visual Culture
,
Bates Now
,
Current students
,
Faculty and staff
,
Humanities and history
,
Multicultural Affairs
,
Women and Gender Studies
.
Tags:
Erica Rand
,
The Ellis Island Snow Globe
.
---
Contact Us