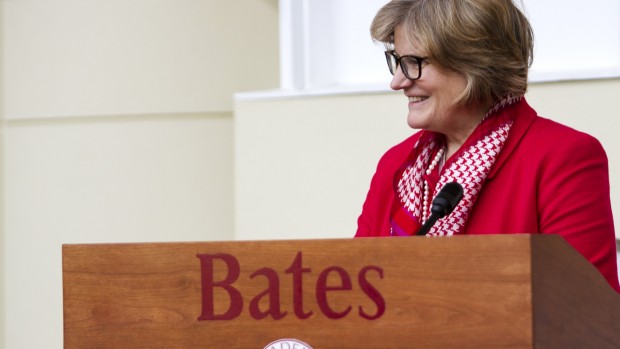 "We have ambitious goals for Bates, and I am inspired by this outpouring of support from the college community," said President Clayton Spencer.
Published on
Description

---

January 31, 2006
4:08 pm

Nominated by students and alums who describe his classroom as a "town meeting" where the moderator respects all viewpoints, faculty member William Corlett has received the College's Ruth M. and Robert H. Kroepsch Award for Excellence in Teaching.

January 25, 2006
12:00 am

At 7 p.m. Thursday, Jan. 26, the Bates College Republicans offer a screening of the documentary film Why Wal-Mart Works and Why That Makes Some People Crazy in the Filene Room (Room 301), Pettigrew Hall, 305 College St.

January 25, 2006
12:00 am

Helen Evans, who curated two popular and critically acclaimed exhibitions of Byzantine art at New York's Metropolitan Museum of Art, visits Bates College to discuss the creation of those shows at 7:30 p.m. Wednesday, Jan. 25, in the Keck Classroom (G52), Pettengill Hall, Andrews Road.

January 20, 2006
4:23 pm

The Blazing Sun Steel Pan Orchestra, a Bates College student ensemble directed by Shawn Thwaites, performs in concert at 8 p.m. Saturday, Jan. 21, in the Olin Arts Center Concert Hall, 75 Russell St.

January 20, 2006
4:20 pm

The historic Quad sported a rare dead-of-winter look today: bare ground with a hint of green.

January 19, 2006
4:13 pm

Sangai Asia, a student group at Bates College that promotes Asian and Asian American awareness, identity and fellowship, presents a cultural extravaganza titled "Asian Night Performance" at 7 p.m. Saturday, Jan. 21, in Schaeffer Theatre, 305 College St. The public is invited to attend at no charge. For more information, please call Bates student organizer Khoa Pham at 207-777-7811.

January 19, 2006
3:50 pm

Marking a new chapter in Bates College's commitment to the Lewiston-Auburn community and to community-based education, the Donald W. and Ann. M. Harward Center for Community Partnerships presents a grand opening and welcome for its first director, David M. Scobey. The Jan. 25-27 celebration features three days of academic and cultural events, all of which are open free of charge to the Bates and Lewiston-Auburn communities. For more information call 207-786-6202.

January 19, 2006
12:42 pm

On successive evenings in February, Bates College presents two lectures by noted scholars from the law schools at Columbia and Yale universities. Alan Schwartz '61, Sterling Professor of Law at Yale Law School, offers a talk titled "The Economic Rationality Assumption and Its Challengers" at 7:30 p.m Wednesday, Feb. 1, in the Edmund S. Muskie Archives, 70 Campus Ave. Patricia Williams, columnist for The Nation and James L. Dohr Professor of Law at Columbia Law School, gives a lecture titled "Reconstructing Civil Rights for an Uncertain Future" at 7:30 p.m. Thursday, Feb. 2, in the Bates Chapel, College Street.

January 19, 2006
12:00 am

The Bates College community observes the birthday of Martin Luther King Jr. by canceling classes and scheduling special programming throughout the day. For 2006, the Martin Luther King Day Committee placed an emphasis on the theme "The Noble Road to Peace: Storming the Battlements of Injustice."

January 18, 2006
3:23 pm

A structure made of Styrofoam packing materials and a system that renders museum-goers' images into sound are among the six artworks in Activator, a group exhibition of installations at the Bates College Museum of Art.