Bates College Concert Series presents St. Lawrence String Quartetwd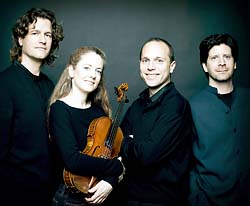 Considered one of the world-class quartets of its generation, the St. Lawrence String Quartet visits Bates College for a performance at 8 p.m. Saturday, Feb. 4, in the Olin Arts Center Concert Hall, 75 Russell St.
Admission to this Bates College Concert Series program is $8 for adults and $5 for senior citizens and non-Bates students with ID. For additional information about the series and the concert hall, please click here. For reservations, please call 207-786-6135.
Classical guitarist Michael Nigro closes the series on March 4.
Canada's premiere chamber ensemble and a regular presence at Maine's Bay Chamber Concerts, the SLSQ was founded 17 years ago. Its members are violinists Geoff Nuttall and Barry Shiffman, violist Lesley Robertson and cellist Christopher Costanza.
"The St. Lawrence are remarkable not simply for the quality of their music making, exalted as it is," wrote New Yorker critic Alex Ross, "but for the joy they take in the act of connection."
The quartet's Bates program includes music by Beethoven, Mozart and Shostakovich. Founded in 1989, the quartet quickly earned a reputation as Canada's premiere string quartet, winning both the Banff and Young Concert Artists' competitions in 1992.
Since 1998 the SLSQ has served as ensemble in residence at Stanford University, and it performs some 100 concerts annually throughout North America, Europe, Australia, New Zealand and other countries. The SLSQ's recordings, exclusively on EMI Classics, have garnered numerous awards, including a Juno, a Grammy nomination and a German critics' award.
The SLSQ enjoys especially close associations with many of North America's leading composers, including Osvaldo Golijov, R. Murray Shafer, Christos Hatzis, Jonathan Berger, Roberto Sierra, Ka Nin Chan and Mark Applebaum.
The members of the SLSQ are highly regarded as passionate educators. In addition to extensive and innovative programs at Stanford, they frequently give classes while on tour, and in 2005 inaugurated a new visiting chamber music residency at Arizona State University.
View Comments