Bates debates Yale in 'ultimate showdown'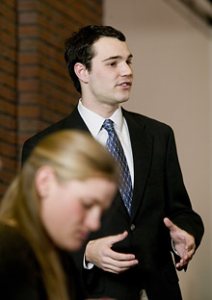 Billed as the "ultimate showdown between two of the best debate teams in the country," the Brooks Quimby Debate Council debates the Yale University team on the issue, "Is terrorism, as a philosophical construct, a just form of warfare?" Open to the public free of charge, the rhetorical match begins at 8:15 p.m. Thursday, Feb. 16, in Chase Hall Lounge, 56 Campus Ave.
"We have been looking to have this debate for some time now," says Vaibhav Bajpai '08, of Calcutta, India, publicity director for the debate council. "This topic gained particular relevance," he says, "when Hamas won the elections in Palestine, propelling what is considered a terrorist organization to a seat of legitimate governmental authority."
Representing Bates in the debate against Yale will be Ryan Creighton '07 of Lyme, N.H.; Brendan Jarboe '08 of Acton, Mass.; and Adrienne Maxwell '06 of Somers, Mont.
The Bates vs. Yale match precedes the third Edmund Muskie Classic Debate Tournament, an event hosted this weekend by Bates, in which approximately 60 debaters from Bates, Brown, Bowdoin, Brandeis, Harvard and Yale will compete.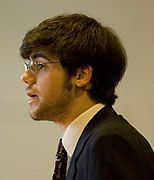 In their most recent competition, held at New York University, Bates debaters distinguished themselves in a field of 208 debaters from 104 schools. Bajpai and Creighton placed ninth, while Mike Metzger '06 of Wellesley, Mass., and Jarboe placed 13th. Jarboe placed 15th and Bajpai 17th in the speaker category.
Leave a Reply
This is a forum for sharing your thoughts about the preceding post with the public. If you have a question for the author, please email the Bates Communications Office at communications@bates.edu.