Three days, three big concerts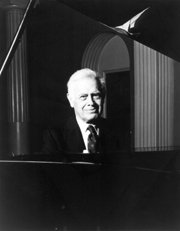 Maine's best-known pianist, a classical guitarist offering an evening of South American music, and performers from the Portland Chamber Music Festival make this a can't-miss weekend for music lovers at Bates College.
All three concerts take place in the Olin Arts Center Concert Hall, 75 Russell St.
Frank Glazer, a pianist of international stature and an artist in residence at Bates since 1980, performs a program of Beethoven sonatas at 8 p.m. Friday, March 3. The concert is open to the public at no charge.
The following evening, also at 8, guitarist Michael Nigro concludes the 2005-06 Bates College Concert Series. Admission is $8 for adults and $5 for senior citizens and non-Bates students with ID.
Finally, at 3 p.m. Sunday, March 5, the Portland Chamber Music Festival makes its annual return to Bates with a program by Mozart, Kodály and Shostakovich. The concert is open to the public at no cost.
For more information, and for reservations for the Nigro concert, please call 207-786-6135.
Frank will perform sonatas No. 1, 2 and 3 from Beethoven's Op. 2, written in the 1790s. Although composed early in his career, these works clearly foretell what the composer would be capable of at his peak, especially No. 3, in C major.
Glazer's long career includes numerous recordings, his own television program in the 1950s and countless solo recitals and performances with orchestras and chamber ensembles, including the New England Piano Quartette, of which he was a founder.
Glazer taught at the Eastman School of Music for 15 years before retiring to Maine with his wife, Ruth, in 1980. The couple founded the Saco River Festival, which is held in Cornish every summer. A student of pianist Artur Schnabel in the 1930s and '40s, Glazer is one of the few remaining proteges of that great musician.
Michael will play music by South American composers including Máximo Diego Pujol, Adolfo Luna, Jorge Morel, Jorge Cardoso, Augustine Barrios and Antonio Lauro.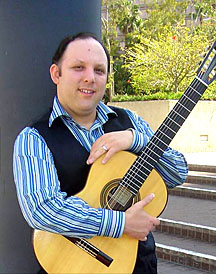 Born in 1971 in California, Nigro earned a bachelor of music degree at the Indiana University School of Music in 2000 and completed his master's program at California State University Fullerton. He is completing his doctorate at Claremont Graduate University.
Nigro has performed extensively on the West Coast and in the Midwest. His performance at Bates is part of an East Coast tour. His recordings on the Music and Arts label include a collection of Argentine guitar music, Milongas Tristes (2004), featuring compositions by Astor Piazzolla, Pujol, Luna and many others; and the 2005 release Homage to Piazzolla.
"Live chamber music doesn't get any better than this," a Portland Press Herald reviewer said of the Chamber Music Festival in 1995. Jennifer Elowitch, a violinist from Portland, and pianist Dena Levine founded the festival in 1994 with the goal of bringing a fresh approach to summer music in Maine — emphasizing new music and hidden gems of the established repertoire, performed by top young players from around the country.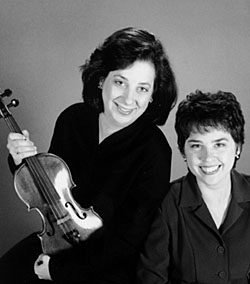 At Bates, the pair will be joined by cellist Andrew Mark, violinist Lydia Forbes and violist Carol Rodland. They will perform  Mozart's Piano Trio in C Major (K. 548), Kodály's Serenade for Two Violins and Viola (Op. 12) and Shostakovich's Quintet in G Minor for Piano and Strings (Op. 57).
The Portland Chamber Music Festival celebrates its 13th season in August 2006. Since its inception, the festival has presented more than 60 concerts featuring nationally acclaimed performers and composers from the United States, Canada, Europe and Latin America. Its concerts have been featured on Maine Public Radio's "Mainestage" and on National Public Radio's "Performance Today," and are recorded and broadcast annually by WGBH Radio, Boston.
View Comments