Seven senior art majors exhibit work at museum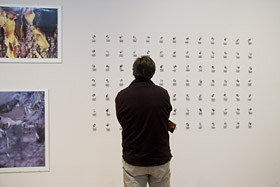 Seven studio art majors at Bates are showing work from their yearlong thesis projects in the annual Senior Exhibition, which runs through May 28 in the Bates Gallery, Bates College Museum of Art, 75 Russell St.
The artists are Lindsay Allsop of Concord, N.H.; Brooke Anable of Plymouth, N.H.; Emily Fisken of Thetford Center, Vt.; Yi Xing Hwa of Seremban, Malaysia; Sarah Judice of West Granby, Conn.; Molly Stoddard of Los Osos, Calif.; and Annie Wachnicki of Norwalk, Conn.
Showing through the same period is Josef Koudelka, comprising images by the award-winning Czech photographer. The exhibition showcases Koudelka's images of Roma (gypsies) living in Czechoslovakia in the 1960s and of the Soviet military suppression of the "Prague Spring" liberalization movement in 1968. Bates seniors Julia Knight of Chestertown, Md., and John Phelan of Guilford, Conn., curated the show as part of the Students in the Vault exhibition series.
Admission is free. Regular hours are from 10 a.m. to 5 p.m. Tuesday through Saturday. For more information, please call 207-786-6158 or visit the museum Web site.
Since its dedication, in 1986, the museum has maintained a special relationship with the college's Department of Art and Visual Culture, expressed in part by its support of studio art majors through the annual Senior Exhibition. As required by the major, those students create a cohesive body of related works through sustained studio practice and critical inquiry. The yearlong process is overseen by studio art faculty and culminates in this exhibition.
Allsop is a painter. "What keeps me working is the process of reworking," she writes in a statement about her work. "I am looking around and looking through things, exploring not explaining."
Anable, devoting her thesis to graphic design, created the catalog and a promotional post card for the exhibition. "Synthesizing large quantities of information into a single, clear concept is my goal," she writes.
Fisken is a photographer. "I have begun to understand wilderness as my own wildness," she writes. "Tagging teabags with photographs of sensory organs is a way to reflect on the human relationship to wilderness: our eyes, ears, noses and mouths are openings to Otherness — to elements outside of ourselves that we have become increasingly disconnected from."
Hwa makes prints that make integral use of text. "I am exploring the language of gender, sex and sexuality, particularly the naming of gendered and sexual identities," she states. "What is expressed and what is repressed? How much of ourselves can we communicate through language?"
Judice makes ceramic pots on the wheel. "These organic forms offer a sense of balance, warmth and inviting comfort," she says. "They are physical, three-dimensional objects that should be handled, not just looked at from a distance."
Stoddard uses snapshots, along with throwaway office and art supplies, to delve into our affection for personal snapshots. "There is a strange disparity between the disposable, 'low-quality' nature of the typical snapshot and the intensity with which we cherish our photos," she writes.
Wachnicki is a printmaker. "I am interested in grids, especially when they are used disjunctively — to order organic forms, or when the grids themselves are composed of loose, imperfect lines," she writes. "I also work in multiples; there is beauty in the subtle differences between images that are printed by hand."
View Comments