Men's tennis team qualifies for seventh straight NCAA Championships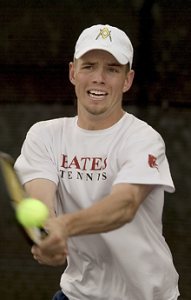 The Bates College men's tennis team was selected to participate in the NCAA Division III Men's Tennis Championships for the seventh straight year on Monday, the longest such streak of any athletic program at Bates.
The Bobcats (9-9) are one of 27 teams who will play in the tournament, and one of seven teams who will play in the Northeast Region. Three of the teams are at Middlebury and four are at Williams.
Bates is the fourth seed in the field at Williams College and will play the host Ephs (12-3) this Saturday, May 6. The winner will face the winner between Trinity College (13-3) and Bowdoin (7-10) in the second round for the right to move on to the quarterfinal, semifinal and final rounds at the University of Mary Washington May 17-22.
The selection of teams is based on won-lost record, strength of schedule and eligibility and availability of student-athletes. The selection committee considered team results in collegiate matches play from Sept. 6, 2005, until the time of final selections.
In the 2005 championship, UC-Santa Cruz defeated Middlebury 4-1.
Leave a Reply
This is a forum for sharing your thoughts about the preceding post with the public. If you have a question for the author, please email the Bates Communications Office at communications@bates.edu.