Award-winning journalist to discuss Maine coast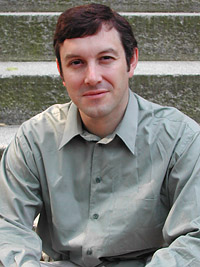 Colin Woodard, an award-winning journalist for The Christian Science Monitor and The Chronicle for Higher Education, will give a talk titled The Lobster Coast: The Past, Present and Future of Coastal Maine at 7:30 p.m. Thursday, May 18, in the Keck Classroom (G52), Pettengill Hall, Bates College. The public is invited to attend this talk, sponsored by the Department of History, free of charge.
A Maine native and a Portland resident, Woodard has reported from more than 40 foreign countries and six continents, and lived for more than four years in Eastern Europe. He is the author of the New England best-seller The Lobster Coast: Rebels, Rusticators, and the Struggle for a Forgotten Frontier (Viking Press, 2004), this cultural and environmental history of coastal Maine, a Boston Globe reviewer wrote, "delves deeply and reflectively into the history of the coast of Maine and its people." Woodard also wrote Ocean's End: Travels Through Endangered Seas (Basic Books, 2000), a narrative non-fiction account of the deterioration of the world's oceans.
Woodard has covered a wide range of issues, from ethnic conflict in the Balkans and peacekeeping in Guatemala to the destruction of coral reefs and the effects of global warming.
Woodard received the Jane Bagley Lehman Award for Public Advocacy, awarded by the Tides Foundation for his global reporting on environmental issues. He has received numerous fellowships, including a Pew Fellowship in International Journalism at the Johns Hopkins University School of Advanced International Studies, a policy fellowship at the Regional Environmental Center for Central and Eastern Europe in Budapest, and journalism fellowships from the Marshall Fund of the United States.
Woodard is a graduate of Tufts University and the University of Chicago, where he received the 1997 Morton Kaplan Prize for his thesis on the causes of ethnic conflict in the Balkans.
View Comments