Athletic Director Suzanne Coffey resigns to take AD post at Amherst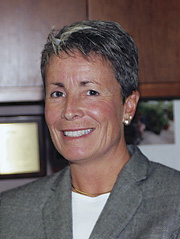 After 21 years with the Bates College Athletic Department, Director of Athletics Suzanne Coffey has announced her resignation to become athletic director at Amherst College in Amherst, Mass.
"This was a difficult decision," Coffey said. "It will not be easy leaving many talented and excellent colleagues and friends. But I do find this move energizing at this point in my career, and I am eager to start at Amherst."
Coffey has been on leave since March to implement the 2006 World Scholar-Athlete Games with the Institute for International Sport in Providence, R.I.  She will begin her duties at Amherst on Aug. 1.
Bates Associate Director of Athletics Dana Mulholland will serve as interim athletic director while a national search is conducted for Coffey's replacement.
Bates President Elaine Tuttle Hansen lauded Coffey for her accomplishments. "Suzanne has worked so very ably for three different Bates presidents, and I know my predecessors join me expressing our gratitude for her longstanding dedication to this College and its student-athletes," said Hansen. "We are sorry to lose her leadership, but wish her all the best at Amherst."
Bates Vice President for Academic Administration Jill N. Reich said Coffey built an outstanding athletic department that advances students as athletes and scholars. "Suzanne has developed a coaching staff with the talent to build Bates' standing in the Directors' Cup and our place in NESCAC. At the same time our coaches work with faculty to support our students' intellectual pursuits and civic engagement. Her thoughtful leadership and collegial management leave a strong department ready to take on the challenge of her departure. Our colleagues at Amherst will appreciate her consistently high standards of professionalism and creative problem-solving."
Reich noted that during the last 10 years of Coffey's tenure, Bates has consistently finished in the top 20 percent of all Division III sports programs, as measured by national Director's Cup standings. Bates is a member of the New England Small College Athletic Conference, along with Amherst, Bowdoin, Colby, Connecticut, Hamilton, Middlebury, Trinity, Tufts, Williams and Wesleyan. NESCAC members are reliably found in the U.S. News & World Report's list of the top 25 best American liberal arts colleges and in the Directors' Cup top 25 percent of Division III athletic programs.
Coffey was appointed director of athletics and chair of the department of physical education at Bates in 1991. During this time, Coffey rose to several positions of national leadership in collegiate athletics for which she received numerous awards and honors. Currently a member of the NCAA's association-wide Diversity Leadership Task Force, Coffey held the top Division III post as chair of the Management Council in 2004-05. In 2003-04, she was vice chair of the council and a member of key working groups that formulated NCAA reforms designed to align practices at member institutions more closely with Division III philosophy. She has also served on the association-wide Executive Committee, as well as the Championships and Budget committees.
She is active in enhancing educational development opportunities for student-athletes at the regional and national level, and since March has served as interim vice president of the Institute for International Sport, in Kingston, R.I., where she is commissioner of the 2006 World Scholar-Athlete Games. In 2005, the National Association of Collegiate Directors of Athletics selected Coffey as its Northeast Region Athletics Director of the Year.
Prior to her arrival at Bates in 1985 as an assistant professor of education, associate director of athletics and coach of women's lacrosse, Coffey was a member of the coaching staffs at Bowdoin College and the University of New Hampshire.
View Comments