Bates library schedules mock disaster and recovery for June 23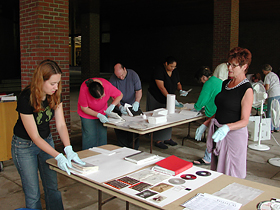 The Bates College library staff will hold a mock disaster and recovery of library materials at 10:30 a.m. on June 23 in the outdoor lower arcade of the George and Helen Ladd Library.
The event, led by Melissa Straw, a graduate intern studying book and paper conservation at the University of Texas-Austin, will give the staff of Ladd library and the Muskie Archives and Special Collections Library real-world experience in quickly and efficiently recovering from a water-based disaster with guidance from a trained book conservator.
The drill will use outdated books already weeded from the stacks, duplicate photos and slides from the archives, as well as various digital media.
Straw was hired specifically to prepare the Bates library and archives in the event of an emergency and to provide employees with the necessary training to implement disaster preparedness and recovery. Planning and executing the mock disaster is part of her required fieldwork.
"Most librarians at institution of our size don't have the opportunity to benefit from this kind of amazing hands-on experience," says Kat Stefko, director of the Muskie Archives and Special Collections Library.
View Comments