Robert Moses' Kin performs at Bates Dance Festival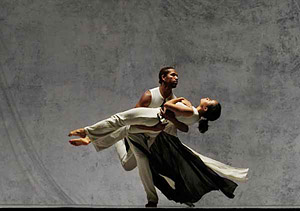 Described by The New York Times as "electrifying" and hailed by the San Francisco Chronicle as "a local treasure," Robert Moses' Kin returns to the Bates Dance Festival to present Moses' eloquent and streetwise brand of contemporary dance. The festival presents Robert Moses' Kin at 8 p.m. Friday and Saturday, July 21 and 22, in Schaeffer Theatre, 365 College St., Bates College. Tickets are $18/$12 (students and seniors) and may be purchased by calling 207-786-6161 after July 8.
The company will perform new works that explore topics ranging from oral history in African American culture to the dark side of contemporary urban life and the simple joyous expressions of pure movement.
The creator of more than 80 works for dance, theater and film, Moses' work fuses different dance styles with a blend of powerful athletic technique and rhythmic complexity, a fusion of different dance styles and gestural detail. The program includes The President's Daughter, a masterfully woven tale of text, movement, music and visual design inspired by the clandestine relationship of slave Sally Hemmings and American founding father Thomas Jefferson.
Robert Moses' Kin has performed across the United States and in England, Italy and Ireland. Moses has created commissioned works for Oakland Ballet, Cincinnati Ballet, Savage Jazz Dance Company and England's Transitions Dance Company, among others. Moses and his company have been honored with many prestigious grants and awards, including Isadora Duncan Dance Awards, the Bonnie Bird North American Choreography Award, a San Francisco Bay Guardian "Goldie" and the SF Weekly "Black Box" Award.
In addition to main stage performances, the festival offers a selection of free and low-cost events. Complete information is available at the website.
At press time the Bates Dance Festival gratefully acknowledges support from the National Endowment for the Arts, New England Foundation for the Arts, National Performance Network, Maine Arts Commission, Surdna Foundation, Asian Cultural Council, Altria, Fisher Charitable Foundation, Sam L. Cohen Foundation, Androscoggin Bank, Cole Hahn, Liberty Mutual Insurance, Mechanics Savings Bank and TD Banknorth.
View Comments