Poet Robert Farnsworth to address Bates College convocation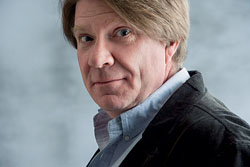 Bates College begins its 152nd academic year with a convocation address by Robert Farnsworth, a member of the English faculty and a nationally known poet, at 4:10 p.m. Wednesday, Sept. 6, on the college's Historic Quadrangle.
Farnsworth spent the summer as the poet-in-residence at The Frost Place, a museum and arts center housed in poet Robert Frost's former homestead in Franconia, N.H. Farnsworth's convocation address is titled "Three Lower-Case Virtues."
The convocation ceremony is open to the public at no charge. The rain site is the Alumni Gymnasium. For more information call 207-786-6255.
Farnsworth will join Bates President Elaine Tuttle Hansen in welcoming more than 500 students new to Bates, part of a student body totaling 1,872.
A Lewiston resident, Farnsworth has published two collections of poetry with Wesleyan University Press, Three or Four Hills and a Cloud (1982) and Honest Water (1989). His poems have appeared in such national publications as The Southern Review, Michigan Quarterly Review, Ploughshares and the Beloit Poetry Journal.
From 1998 to 2004, Farnsworth served as poetry editor for The American Scholar, the highly esteemed literary and intellectual quarterly of the national honor society Phi Beta Kappa. He received a National Endowment for the Arts fellowship in poetry in 1989, and has also won Bates' Kroepsch Award for excellence in teaching.
As poet-in-residence at The Frost Place, a farmhouse where the famed poet Robert Frost spent 19 summers, Farnsworth lived, wrote and offered public readings in July and August 2006. "I can think of no other writer I'd rather be haunted and inspired by than Frost," he told the college's alumni magazine last spring.
A visiting assistant professor of English at Bates and a member of the faculty since 1990, Farnsworth's courses include modern Irish poetry, an offering reflecting a longstanding interest in Irish literature.
In past years, outside speakers have been invited to address convocations at Bates. Farnsworth's address this year begins a new tradition of faculty speakers, a practice intended to emphasize the enduring importance of the student-faculty relationship to a Bates education.
Bates is welcoming 494 new first-year students and 17 transfer students this fall. According to the college's admissions office, 87 percent of the new students graduated in the top fifth of their high school class. New students have residences in 33 states and 32 foreign countries, from Bangladesh to Vietnam.
More than 10 percent of the new students are U.S. students from underrepresented minority groups, 5 percent are international students and 4 percent are citizens of both the United States and another country. First-generation-to-college students make up 8 percent of the entering class.
Some 1,717 students are expected on campus this fall, with another 155 in Bates-sponsored programs off-campus, including 22 in the Bates Fall Semester Abroad Program in Austria, 17 in the Bates Fall Semester Abroad Program in China, 129 on junior semester abroad programs and 23 in junior year abroad programs.
View Comments