New multifaith chaplain named at Bates College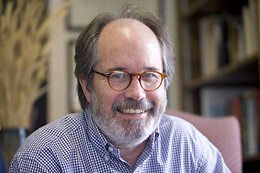 The Rev. William Blaine-Wallace, an Episcopal priest, has been named the multifaith chaplain at Bates College, announced Dean of Students Tedd R. Goundie.
Blaine-Wallace, who started at Bates Aug. 1, comes from Salem, Mass., where he has practiced as a therapist and faculty member at the Salem Center for Therapy, Training, and Research.
"Bill brings to Bates an appealing blend of pastoral presence and scholarship. His career path and his numerous published works reveal a lifelong passion for learning and exploration," Goundie said. "It is important to note that throughout his career, Bill has repeatedly demonstrated his commitment to bringing together disparate groups and working effectively with people from all faiths."
A Ph.D. candidate in social psychology at the University of Tilburg, the Netherlands, Blaine-Wallace received a master of divinity degree with honors from the Lutheran Theological Southern Seminary in Columbia, S.C., and is board-certified in pastoral counseling and grief therapy. Prior to his ministry in Salem, he spent 13 years as rector of the Emmanuel Church in Boston.
The Office of the Chaplain offers interfaith resources and programs as well as service to the near and wider communities, with occasions for participants to reflect upon their engagement. The office also offers, says Blaine-Wallace, "a hospitable, safe, respectful and attentive space for pastoral conversation."
For more information, call the chaplain's office at 207-786-8272.
View Comments