Poet Farnsworth inaugurates new convocation tradition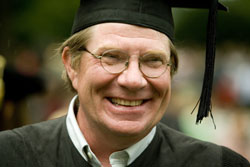 Convocation is about the new, and novelty abounded at the 2006 Bates College convocation. Of course, the ceremony always opens a new academic year — this is the 152nd — and welcomes new students, some 500 of them this time around.
Yet this year's convocation, held Sept. 6, also included the public debut of the College's new chaplain, Rev. William Blaine-Wallace, and marked the start of an important tradition. Where Bates for years has invited outside speakers to give the convocation address, that honor this time went to a faculty member, the poet and English professor Rob Farnsworth.
---
---
Also speaking was Bates President Elaine Tuttle Hansen, who offered valuable advice about two fundamental skills: listening and asking good questions. "A Bates education," Hansen noted, "isn't just about getting better and better at answering harder and harder questions. Answers matter, but in some ways and at some point they matter far less than you might think."
Asking a faculty member to give the convocation address, explained Dean of the Faculty Jill Reich, re-emphasizes the primacy of the faculty-student relationship at Bates. But it also honors an elemental bond sometimes overlooked: the one between arriving first-years and their forerunners who graduated last May.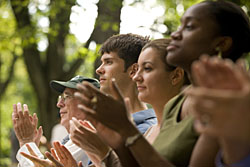 Chosen by last spring's seniors to represent the quality of Bates teaching, Reich explained, Farnsworth was the "symbolic gift from the departing class of 2006 to those who take their place as members of the class of 2010."
Farnsworth returned to campus after spending July and August as poet-in-residence at The Frost Place, a museum housed in poet Robert Frost's former homestead in New Hampshire. Titled Three Lower-Case Virtues, his talk considered the importance of passion, discipline and generosity to the college experience.
The best kind of human passion arises when we "make and comprehend metaphor," Farnsworth said. More than a poetic device, metaphor is potentially a way of thinking, even of being — "the central passion of the human creature." Metaphor, learning and life, he explained, are all about making connections. And that's a process best done "by hand, on foot, by means of your senses, by listening, by your strict, passionate attention to what happens."
He discussed discipline as pertaining to thought, urging his listeners to be "susceptible, but not sentimental; suspicious, but not cynical; rigorous, but not rigid." But it may have been his treatment of generosity that rang most resoundingly across the Quad. "The world would be a more interesting and livable place were we all to strive to be not fulfilled, but fulfilling, people," he said.
President Hansen devoted most of her talk to the skills of listening and questioning. "Like the best and hardest listening," she said, "good questions reflect careful observation of what's difficult, what's confusing, what's strange, what's startling. They entail self-questioning, self-doubt, and, like listening to yourself, they can produce self-awareness."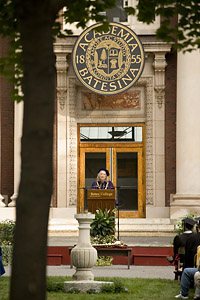 "Institutions need to listen and ask questions, too," Hansen added, noting that Bates itself is in a time of profound asking and listening as it revamps its general-education requirements, undertakes new substantial new construction and explores what kind of campus climate exists for members of underserved minorities.
Blaine-Wallace, an Episcopal priest who joined the Bates community in August as multifaith chaplain, closed the ceremony with a benediction. "Open us to the gift, and strengthen us for the task, of creating together the next chapter of Bates' great tradition of imaginative and enlightened care for a fragile Earth, and respectful attention to a hurting world," he said.
Bill Jack '08, president of the student government, opened the speeches with a brief welcome whose high energy belied his advice to the new students: "Just relax." No one was relaxing as the ceremony began, thanks to an ominous drizzle, but by the end a warm sun was cutting through the clouds and vignetting the Coram Library stage.
---
Related Stories
Sep.7:
Class of 2010 at a glance
View Comments