Byzantine-studies symposium features up-and-coming scholars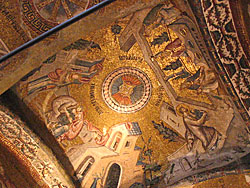 Four recent Ph.D. recipients present a variety of research at a Bates symposium titled Byzantine Studies: Back to the Future, to be held from 1:30 to 5:30 p.m. Saturday, Sept. 16, in the Keck Classroom (G52), Pettengill Hall, Andrews Road.
The program, which includes discussions of the future for the discipline of Byzantine studies, is sponsored by the Program in Classical and Medieval Studies at Bates, with support from the Maliotis Charitable Foundation. It is open to the public at no cost, and attendees are invited, as the guests of the program, to a buffet supper following the discussions. The supper takes place at the Benjamin Mays Center, 95 Russell St.
The speakers are: Jennifer L. Ball, assistant professor of art at Brooklyn College; Sarah T. Brooks, visiting assistant professor in the art department at Vassar College; Dirk Krausmuller, visiting fellow at the Institute of Byzantine Studies, Queen's University, Belfast, Northern Ireland; and Vasileios Marinis, of New York's Metropolitan Museum of Art.
All four are scholars, early in their careers, doing research in fields ranging from sculpture and mosaics to the textiles, architecture and history of the Byzantine Empire. Following short talks about their current work, they will discuss their training and professional experience, as well as their vision of their field's future. The presentation will appeal to anyone with an interest in museums, archaeology and the Middle Ages in general.
View Comments