Groundbreaking ceremony for new $30 million dining Commons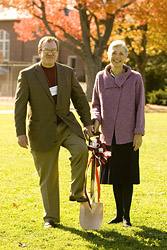 Bates symbolically broke ground Oct. 7 during Parents & Family Weekend for a new dining Commons scheduled to open in January 2008. The new Commons will occupy space between Garcelon Field and Alumni Gym, bordering Central Avenue.
President Elaine Tuttle Hansen and trustee Michael Bonney '80, P'09 and co-chair of the Bates Parents & Family Association along with his wife, Alison Grott Bonney '80, P'09, took turns wielding a special spade first used in 1925 to break ground for the Clifton Daggett Gray Alumni Gymnasium; in 1930 for Smith Hall; and in 1997 for Pettengill Hall. The groundbreaking was symbolic, since earth-moving equipment had actually begun work behind a fenced barrier several weeks ago.
Bonney called the $30 million project "a key priority" of the recently concluded Campaign for Bates: Endowing our Values, a comprehensive campaign that raised almost $121 million for the College endowment, scholarships, academic programs and faculty and new facilities, including the new Commons.
The new Commons is the result of years of planning by staff, faculty and students, as well as consultants Sasaki Associates of Watertown, Mass., and San Francisco, who were hired in 2003 to help develop a comprehensive facilities Master Plan for the campus.
"One of the key priorities that emerged from this strategic process was the need to build a new dining hall," Bonney said.
The dining facilities in Chase Hall, added to the structure in 1950, are outdated, inefficient and undersized to serve the Bates community today and in the future. Currently, the badly designed space of the dining Commons means that students have to struggle with the inevitable lack of seating, and staff have to work in cramped conditions. Furthermore, food storage and freezer space is so small that the College can order food for only one day at a time. Built in 1920, Chase has been added to numerous times, creating an untamed structure of eight different levels that is too difficult to renovate and maintain as a suitable dining Commons.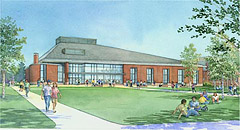 "Commons is the place on campus where all students come together face to face as members of one community," President Hansen said. "Whether students are discussing a theory learned in class, engaging in disagreement about current events, or finding out what happened at the weekend party, Commons facilitates important learning by providing students with a vital, informal forum to express themselves. In many ways an extension of the classroom, Commons is a place where students feel liberated to share ideas, test assumptions, and challenge one another.
"Dining together in one central facility has been an intrinsic part of the Bates experience since the College's founding," she said. "In fact, a student wrote in the June 1887 issue of the student newspaper, 'It is so common a thing for students to meet three times a day at their meals, that it has been overlooked.  But common things have the greatest molding influence. The uncommon may startle, but rarely produces any lasting change…' This sentiment still holds true."
The Office of College Advancement has a fundraising goal of $20 million in gifts from individuals. More than $12 million has already been received from 102 donors during the recently concluded comprehensive fundraising campaign. The balance of the $30 million cost will be financed through low-interest borrowing through the state of Maine.
Over the past two years, Sasaki Associates, Inc., developed plans for the facility working with the Dining Commons Steering Committee and the Infrastructure Committee of the Board of Trustees.
View Comments