Concert Series presents pianist, oboist performing operatic adaptations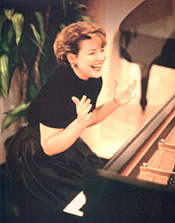 The 2006-07 Bates College Concert Series resumes at 8 p.m. Saturday, Jan. 13, with a memorable program of transcriptions from opera performed by pianist Gayle Martin Henry and oboist Gerard Reuter.
Admission is $8 for adults, $2 for Bates students with ID.
Later events in the series feature jazz with the Marcus Roberts Trio on March 3, and the duo of Steven Lubin, pianist, and baritone Thomas Meglioranza concluding the series on March 9.
All concerts begin at 8 p.m. in the Olin Arts Center Concert Hall, 75 Russell St. Admission fees vary by concert. For more information, please visit the series web page. For reservations, please call 207-786-6135.
Henry claimed international notice as the sole American laureate of the sixth International Tchaikovsky Piano Competition in Moscow and only the third American woman ever to reach the finals. A native Texan, she first performed with the Houston Symphony at age 12, and has given orchestral and recital concerts at major venues all over North and South America. To critical acclaim, she performed works by J.S. Bach in the award-winning 1998 film Angel Passing, starring Hume Cronyn as a once-famous pianist stricken with Alzheimer's disease.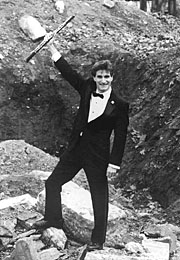 A faculty member at New York University, Reuter has enjoyed a distinguished international career as a chamber musician and soloist. He is a founding member of An Die Musik and the Orpheus Chamber Orchestra. As a soloist, in New York he has appeared with the Jupiter Symphony, the Soviet Emigré Orchestra and the Philharmonia Virtuoso, and in Washington, D.C., with the National Chamber Orchestra. He has performed in recitals in New York, Washington, Los Angeles and Boston as well as in major cities in Europe and Asia.
Widely celebrated for giving new and vital interpretations to historical jazz styles, the Marcus Roberts Trio comes to Bates on March 3. Admission is $15 for adults, $5 for Bates students with ID.
Roberts, a pianist and composer who attained prominence as a member of trumpeter Wynton Marsalis' band, has dedicated himself to the seminal music of such greats as Duke Ellington, Thelonious Monk and Jelly Roll Morton. He has also recorded concert music by Gershwin, James P. Johnson and Scott Joplin. Roberts was the first jazz player to have his first three recordings reach No. 1 on Billboard's traditional jazz chart.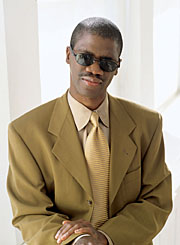 Marcus has been honored with awards from the National Association of Jazz Educators and the Thelonius Monk International Jazz Competition, and with the Helen Keller Award for Personal Achievement in 1998. He has been blind since age 5.
Completing the trio are drummer Jason Marsalis, a member of the highly musical Marsalis family, and bassist Roland Guerin, a versatile musician who is one of the few jazz bassists using the "slap" technique.
Fortepianist Steven Lubin and baritone Thomas Meglioranza present an all-Schubert concert on March 9. The program includes the "Schwanengesang" song cycle, the A-major Piano Sonata and some of Schubert's best-loved lieder. Admission is $5 for adults and free for Bates students with ID.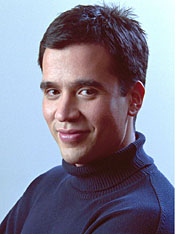 Praised by the Boston Globe for "vocal distinction and expressive warmth," Thomas Meglioranza is one of the country's most sought-after young singers. He is known for compelling artistry and a remarkably versatile voice equally at home with Monteverdi, Schubert, Babbitt or Gershwin.
In March 2006, he was featured in a New York performance titled "Twin Spirits: The Words and Music of Robert and Clara Schumann," starring Sting and his wife Trudie Styler. He starred in the North American premiere of Peter Eötvös' operatic adapation of "Angels in America" with Opera Boston, and other recent dates include debuts with the MET Chamber Ensemble with James Levine.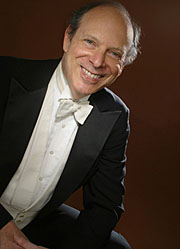 Lubin has appeared as soloist in many of the world's great concert halls and in major international festivals. He has recorded 20 CDs, mostly for major labels, and has received critical approbation worldwide for his artistry, originality and technical excellence. As a fortepianist, Lubin has been a dominating figure for two decades. In New York, starting in the late 1970s, he pioneered a series of fortepiano recitals and performances of Mozart concertos in period style, as soloist-conductor.
His recordings of Mozart concertos for Arabesque introduced many listeners to period-style performance of this repertoire. He was chosen by Decca to record the five piano concertos of Beethoven with Christopher Hogwood and the Academy of Ancient Music, a recording cited as definitive.
View Comments