In a change of pace, Bates College Choir to sing opera choruses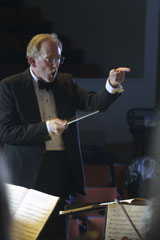 The Bates College Choir performs operatic choruses by some of the genre's greatest composers in 8 p.m. concerts on Friday, Dec. 1, and Saturday, Dec. 2, in the Olin Arts Center Concert Hall, 75 Russell St.
The concerts are free and open to the public, but tickets are required. For reservations or more information, please call 207-786-6135.
With some 70 students participating, the choir is directed by John Corrie, lecturer in music and a member of the Bates faculty since 1982. Pianist James Parakilas, James L. Moody Jr. Family Professor of Performing Arts at Bates, will accompany the singers.
Eschewing more-typical long choral works in favor of varied short operatic pieces, Corrie's program reaches back to the 17th century and English composer Henry Purcell. Other composers on the program include the Italian operatic giants Verdi and Puccini; Charles Gounod, who composed the opera Faust, and Georges Bizet, of Carmen fame; Mozart, represented by choruses from Idomeneo and The Magic Flute; and Wagner, whose "Bridal Chorus" from the opera Lohengrin is often heard at weddings but seldom associated with this composer.
"We're singing opera choruses this fall to provide music that compliments the course that Jim Parakilas is teaching this semester, 'Music and Opera,' " Corrie explains, pointing out that Parakilas is currently writing a textbook history of opera.
"From a choral point of view," Corrie adds, "the choir is singing more in French and Italian than we ever have in the past. Previous concerts with choruses in German and in English are many."
Sopranos all, students featured as soloists are Amy Lareau, a sophomore from Westborough, Mass.; Sidney Walker, a senior from Minneapolis; Alexandra Conroy, a junior from Windham; and Marsha Larned, a senior from Thornton, Pa., who will join tenor Corrie in a duet from Verdi's La Traviata.
In addition to directing the college choir, Corrie teaches harpsichord, organ, voice and musicianship at Bates. He is organist and choir director of the Church of St. Mary the Virgin (Episcopal) in Falmouth, and artistic director of the popular Maine Music Society, which includes the Androscoggin Chorale and the Maine Chamber Ensemble. He performs throughout New England as a singer and on harpsichord and organ.
Parakilas is the chair of the Bates music department. As pianist, he performs in chamber groups with students and colleagues, and coaches student chamber groups. He is the editor of the acclaimed social history Piano Roles: 300 Years of Life with the Piano (Yale University Press, 2000).
View Comments