Editor jump-starts conversation in Spiritual Sojourners series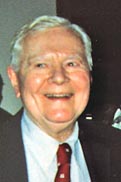 Roderick Nordell, a retired editor for the Christian Science Monitor, will speak at 4:30 p.m. Thursday, Nov. 30, at 161 Wood St., as part of "Spiritual Sojourners," a series sponsored by the Office of the Chaplain at Bates College. The public is invited to attend free of charge. For more information, call the chaplain's office at 207-786-8272.
"People, whose lives tell a notable story, share their stories as 'starter dough' for conversation about meaning, purpose, challenge, passion, desire, courage, loss transition, friendship, encouragement, justice, compassion and the sacred," says Bates College Chaplain Bill Blaine-Wallace.
A native of Alexandria, Minn., Nordell graduated from Harvard University, with time out during World War II for Pacific service in a Marine Air Wing. A summer job as a copy clerk at the Monitor turned into a lifetime of writing and editing for the paper and its monthly magazine, World Monitor, for which he was executive editor. He has been married since 1955 to Joan P. Nordell; they have three children and four grandchildren. On the side he plays drums in his jazz band.
Nordell's talk, the second in the series, will be followed by six additional 90-minute presentations throughout the balance of the academic year. Each talk is held at 161 Wood St., and begins at 4:30 p.m.
Here's the schedule:
• Dec. 12, The Rt. Rev. Chilton Knudsen, Episcopal bishop of Maine
• Jan. 11, Paul Solman, business and economics correspondent for PBS's The News Hour with Jim Lehrer
• Feb. 15, Jane Costlow, Christian A. Johnson Professor of Interdisciplinary Studies, Bates College
• March 15, Sue Houchins, associate professor of African American Studies and special assistant to the president, Bates College
• April 26, The Rev. Deborah Little-Wyman, founder and missioner of Common Cathedral in Boston
• May 17, Calvin Dube, Bates junior Carolyn McNamara of Wenham, Mass., and Kim Wettlaufer, the hands and hearts of Jubilee Center, Lewiston
View Comments