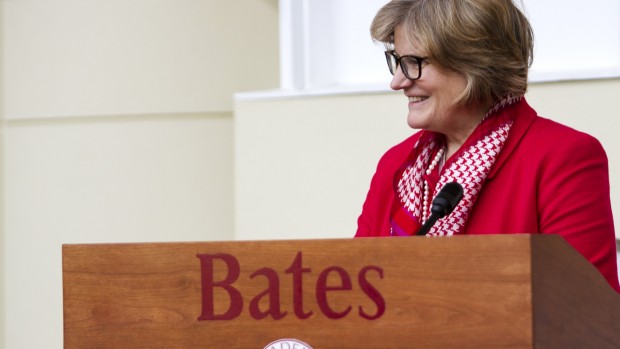 "We have ambitious goals for Bates, and I am inspired by this outpouring of support from the college community," said President Clayton Spencer.
Published on
Description

---

December 19, 2006
3:53 pm

The 2006-07 Bates College Concert Series resumes on Jan. 13 with an 8 p.m. program of operatic music by pianist Gayle Martin Henry and oboist Gerhard Reuter.

December 13, 2006
10:28 am

The Bates College debate team ranks 15th internationally, according to an unofficial tally of more than 400 teams competing in the World Universities Debating Championships.

December 7, 2006
1:43 pm

It took equal parts good, bad and ugly for this image from the Bates-Colby football game on Oct. 28 into Sports Illustrated's special issue, "Football America" (Dec. 4, 2006).

December 1, 2006
3:58 pm

Bates College has recently appointed two faculty members to four-year term professorships, President Elaine Tuttle Hansen announced.

December 1, 2006
2:27 pm

Bates College marks the Christmas season with "A Candlelight Service of Lessons and Carols," a program which includes vocal and instrumental music and seasonal readings led by the Rev. William Blaine-Wallace, Bates' newly appointed multifaith chaplain.

December 1, 2006
9:58 am

The Bates College Jazz Band, directed by Maine pianist Thomas Snow, will be joined by two smaller combos in concert at 7 p.m. Wednesday, Dec. 6, in Chase Hall Lounge, 56 Campus Ave.