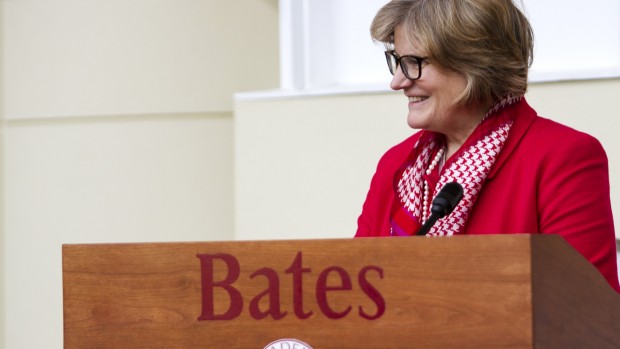 "We have ambitious goals for Bates, and I am inspired by this outpouring of support from the college community," said President Clayton Spencer.
Published on
Description

---

January 31, 2007
2:01 pm

Palestinian activists Mohammad Khatib and Feryal Abu Haikal speak about the nonviolent struggle of Palestinians Thursday, Feb. 1, in the Edmund S. Muskie Archives, 70 Campus Ave.

January 31, 2007
1:51 pm

Sangai Asia, a student group at Bates College that promotes Asian and Asian American awareness, identity and fellowship, presents its second annual Annual Asian Performance Night Saturday, Feb. 2rd, in the college's Schaeffer Theatre, 305 College St.

January 31, 2007
1:40 pm

The Bates College community observes the birthday of Martin Luther King Jr. by canceling classes and scheduling special programming throughout the day.

January 31, 2007
1:34 pm

Nominated by students and alumni who extolled his scholarship, his challenge to his students and his encouragement, Professor of Psychology John Kelsey has received the College's Ruth M. and Robert H. Kroepsch Award for Excellence in Teaching.

January 29, 2007
2:10 pm

Orlando Patterson, John Cowles Professor of Sociology, Harvard University, will give a talk titled "King's Dream, American Realities: Paradoxical Trends in the African-American Condition" Sunday, Feb. 4, in Chase Hall Lounge, 56 Campus Ave.

January 25, 2007
2:20 pm

The Brooks Quimby Debate Council will host the 2007 North American Debating Championships at Bates College, Jan. 26-28. Known as "NorAms," the competition is the top debating championship in North America, held on an alternating basis between the United States and Canada since 1991.

January 22, 2007
2:44 pm

The Carnegie Foundation for the Advancement of Teaching recently selected Bates College for its new Community Engagement Classification, created to recognize colleges and universities that have institutionalized community engagement in their endeavors.

January 12, 2007
3:02 pm

Karen Leigh King, Winn Professor of Ecclesiastical History at Harvard Divinity School, will give a presentation titled "The Shaping of Christianity: Gospel Discoveries from the Egyptian Desert" Wednesday, Jan. 17, in the Edmund S. Muskie Archives.

January 9, 2007
11:57 am

About nine months remain before students move into the new student housing, adjacent to Rand Hall.

January 8, 2007
12:50 pm

The schedule for the 2007 annual Martin Luther King Jr. Day Celebration extends over several days.