Harvard sociologist discusses African American tradition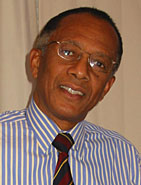 Orlando Patterson, John Cowles Professor of Sociology, Harvard University, will give a talk titled King's Dream, American Realities: Paradoxical Trends in the African-American Condition at 7:30 p.m. Sunday, Feb. 4, in Chase Hall Lounge, 56 Campus Ave., Bates College. Sponsored by the College Lectures Committee, the Multicultural Center, the sociology department and the African American studies department, this lecture is open to the public at no cost.
Author of Rituals of Blood: The Consequences of Slavery in Two American Centuries (Counterpoint, 1999), Patterson received a Bachelor of Science in economics from London University and a doctorate in sociology from the London School of Economics. After faculty appointments at the London School of Economics and the University of the West Indies, Patterson moved to Harvard in 1969 and was appointed professor the following year.
An early historical and literary interest in Jamaican slavery matured into a sociological fascination with slave society as a system of total domination. Patterson's dissertation, The Sociology of Slavery: Jamaica, 1655-1838, was published in 1967.
Patterson's academic interests moved in three main directions: the comparative study of slavery; the study of its antithesis, freedom; and the study of socioeconomic underdevelopment with special reference to Jamaica and the Caribbean Basin. Slavery and Social Death: A Comparative Study was published by Harvard Press in 1982.
Patterson has explored the problem of underdevelopment in papers on the Caribbean and many policy-oriented reports prepared for the government of Jamaica during his tenure as special adviser to Prime Minister Michael Manley for social policy and development (1972-1980). His various interests led to the publication of Ethnic Chauvinism: The Reactionary Impulse (Stein & Day, 1977).
Patterson's study of slavery and domination prompted an exploration of its shadow concept, freedom, beginning with the first of a two-volume study, Freedom: Freedom in the Making of Western Culture (Basic Books, 1991). He received the 1991 National Book Award in nonfiction for this volume.
Patterson is completing the second volume of Freedom, dealing with the modern world. At the same time, he is shifting the focus of his research to contemporary America with special emphasis on the intersecting problems of race, immigration and multiculturalism. He has written two volumes of a trilogy in this area, The Ordeal of Integration: Progress and Resentment in America's  "Racial" Crisis (Basic Civitas, 1997) and Rituals of Blood: The Consequences of Slavery in Two American Centuries (Counterpoint, 1999).
At one time, Patterson pursued a parallel career as a novelist and critic. He has published three novels, The Children of Sisyphus, An Absence of Ruins and Die the Long Day.
Patterson received the Distinguished Contribution to Scholarship Award of the American Sociological Association in 1983 (The Sorokin Prize), and was co-winner of the Ralph Bunche Award of the American Political Science Association for the best scholarly work on the subject of pluralism. He is a Fellow of the American Academy of Arts and Sciences.
View Comments