Experts in ancient Japanese music, pipa, virtuoso Wu Man to perform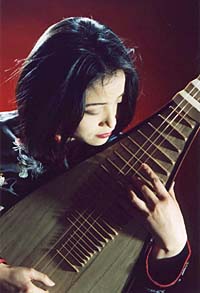 This year's edition of the Bates College world music series features Wu Man, the renowned virtuoso on the Chinese stringed "pipa," and members of the premiere ensemble performing ancient Japanese court music.
Titled "Echoes of the Silk Route: Ancient and Contemporary Sounds of East Asia and Beyond," World Music Week opens with three members of Reigakusha, an orchestra that performs "gagaku," the 1,300-year-old Imperial Court music of Japan. Playing traditional wind instruments, Hitomi Nakamura, Mayumi Miyata and Takeshi Sasamoto perform at 8 p.m. Monday, Feb. 26, in the Olin Arts Center Concert Hall, 75 Russell St.
The threesome also offers a public workshop in the concert hall at 4:15 p.m. Tuesday, Feb. 27.
Wu, whose artistry on the pipa has made her a favorite collaborator with such musicians as Yo-Yo Ma and the Kronos Quartet, performs at 8 p.m. Wednesday, Feb. 28, in Olin. She offers a public workshop at 1:30 p.m. that same day in the concert hall.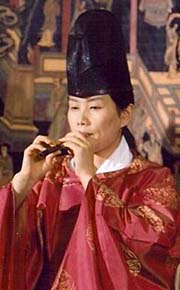 All the events are open to the public at no cost. For more information, please call 207-786-6135.
Gagaku is the world's oldest continuous orchestral music tradition, with key influences dating back to the fifth century. Its instrumental, vocal and dance music is based on indigenous Japanese forms and borrowings from China, Korea and elsewhere. Gagaku was developed and preserved through the centuries by professional court musicians, including today's musicians of the Imperial Household Agency, in Tokyo.
Gagaku is a formal style based on scales unfamiliar to Western ears and emphazising unison melodies rather than harmony. Wind, stringed and percussion instruments are all represented in ensembles that can number up to 30 players.
Sasamoto plays the "ryuteki" ("dragon flute"), a versatile bamboo flute that often opens a piece of gagaku music. Nakamura's instrument is the "hichiriki," a piece with two reeds, like an oboe, and capable of a piercing, keening sound. Finally, Miyata plays the "sho," a 17-reed mouth organ made of bamboo pipes that can produce both single notes and chords. Excavations have revealed examples of the sh? dating back to 433 BC.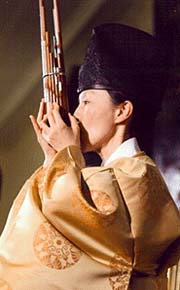 The threesome visiting Bates have all performed widely and are known for their efforts to give their instruments a meaningful role in today's music. They are members of Reigakusha, established in 1985 as an orchestra dedicated to both the classical gagaku repertoire and the creation of new works. The trio's Bates program will include traditional gagaku and contemporary works, including a piece by Hiroya Miura, a member of Bates' music faculty and conductor of the college's orchestra.
Wu Man is likely the best-known player of the ancient lute-like pipa. In fact, The Los Angeles Times called Wu "the artist most responsible for bringing the pipa to the Western World." Steeped in one of the most prestigious classical pipa styles of Imperial China, Wu Man is now known as an outstanding exponent of both traditional repertoire and contemporary pipa music by such prominent composers as Terry Riley, Philip Glass, Lou Harrison, Tan Dun and many others.
Wu's appearances at Bates have been made possible by Frank Wendt, a Bates trustee from Southport, Conn., and his wife, Barbara, a member of the college's class of 1944.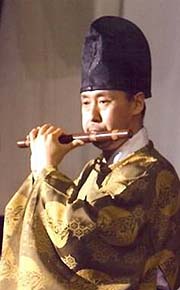 A star in her own right, Wu is also known for intrepid and frutiful collaborations with other artists. She has performed and recorded with the progressive Kronos Quartet, with cellist Yo Yo Ma in his Silk Road Project and with composer Philip Glass in his globetrotting "Orion" project. Her pipa was heard on the soundtracks for Ang Lee's motion pictures The Wedding Banquet (1993) and 1994's Eat Drink Man Woman.
Born in Hangzhou, China, Wu Man was the first recipient of a master's degree in pipa at the Central Conservatory of Music in Beijing. While in China, she received first prize in the first National Music Performance Competition and participated in many groundbreaking premieres of works by a new generation of Chinese composers. Wu now lives in San Diego.
Wu has also appeared as soloist with many major orchestras, including the Boston Symphony Orchestra, Los Angeles Philharmonic New Music Group and New York Philharmonic, and has performed in recitals and festivals all over the world. Her recent world premieres of new msuic have included Chen Yi's "Ning!" with Yo-Yo Ma at Carnegie Hall, and Tan Dun's "Ghost Opera" with the Kronos Quartet at the Brooklyn Academy of Music.
Wu's recent recordings include Wu Man and Friends (Traditional Crossroads, 2005), on which she plays with musicians from Uganda, Ukraine and the southern Appalachian Mountains; and an homage to the composer of classic Bollywood songs, Rahul Dev Burman, with the Kronos Quartet and singer Asha Bhosle (Nonesuch, 2005).
For more information on Wu Man, please visit www.wumanpipa.org.
View Comments