Sulochana Dissanayake '09 lands a double role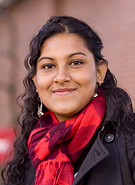 The First-Year Activities Fair at Bates College reminded Sulochana Dissanayake '09 of Colombo, Sri Lanka, "of a market back home with people selling their wares."
Accustomed to a system that rewards status rather than ability, Dissanayake discovered that "Bates provides many opportunities to all its students." Her first semester on campus, she directed a play with the Robinson Players, a student theater group. "I had literally just gotten off the plane," she says. "That amazed me. Here, if you are serious about something, you can do anything you want."
Like many international students, she chose economics as a major, but her love of the stage lingered. The Office of Career Services put her in touch with an alum whose contacts yielded a 2006 summer internship with VEE Corporation, a Minneapolis-based firm that provides live entertainment for children. Spending every spare moment attending productions at the nationally famous Guthrie Theater, Dissanayake concluded that she couldn't live without the stage. Upon returning to Bates, she declared a double major.
"Coupling theater with something steady like economics gives my parents a little relief," Dissanayake laughs.
Distance from family is a challenge for international students, she says. But new activities and academic rewards distract her from homesickness. "I have twice as many opportunities here as I would have had if I stayed at home," she says. "I can't imagine being anywhere else but Bates."
Leave a Reply
This is a forum for sharing your thoughts about the preceding post with the public. If you have a question for the author, please email the Bates Communications Office at communications@bates.edu.