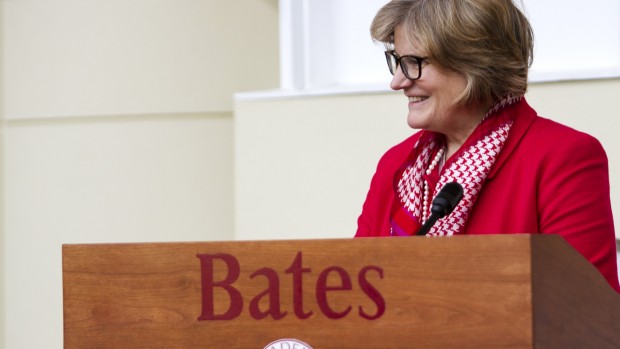 "We have ambitious goals for Bates, and I am inspired by this outpouring of support from the college community," said President Clayton Spencer.
Published on
Description

---

March 19, 2007
2:44 pm

Journalist Bill Porter, aka "Red Pine," will make two presentations about the relationship of the environment to Chinese history and culture at Bates College on Thursday, March 22.

March 19, 2007
2:39 pm

Bates College's Harward Center for Community Partnerships will screen "There Ought to Be a Law" a new documentary film about a Lewiston woman who became a gun control activist after her teenager's suicide.

March 19, 2007
2:27 pm

Human rights activist William H. "Bill" Slavick will visit Bates College to give a lecture titled Neighbors, Near and Far and present the annual William Stringfellow Awards in Justice and Peace Sunday, March 25, in the Benjamin Mays Center.

March 14, 2007
2:53 pm

Amandla!, the African American student organization at Bates College, presents its fifth annual Unity Conference, Generation C: Generation Consciousness, an exploration of politics, gender and culture, on Saturday, March 17.

March 13, 2007
3:01 pm

Libertarian, entertainer and entrepreneur, Reginald Jones discusses the topic Betrayal: Sold Out by the Civil Rights Movement Wednesday, March 14, in Room 204, Carnegie Science Hall, 44 Campus Ave.

March 8, 2007
3:05 pm

Sue Houchins, associate professor of African American, American cultural and women and gender studies at Bates College, will speak Thursday, March. 15, at 161 Wood St., as part of the series "Spiritual Sojourners."

March 7, 2007
3:35 pm

The Roots, a hip hop sextet recently nominated for two Grammy Awards, perform Monday, March 26, in the Bates College's Gray Athletic Building, Central Avenue.

March 7, 2007
3:30 pm

Le Thi Lien, a leading Vietnamese archaeologist, visits Bates College to discuss her involvement in a major archaeological site in Hanoi Thursday, March 29, in Room 104, Olin Arts Center, 75 Russell St.

March 7, 2007
3:16 pm

Bates College presents a concert of Indonesian music featuring student musicians and a singer who is one of the Pacific nation's leading classical recording artists Saturday, March 17, in the Olin Arts Center Concert Hall, 75 Russell St.

March 7, 2007
3:12 pm

Bates College is one of eight colleges and universities in Maine, and more than 100 nationwide, to sign an agreement to become "carbon neutral" — that is, to reduce institutional emissions of carbon-based greenhouse gases such that they no longer increase the atmospheric total of such gases.